Bangladesh Shipyard Launches Danish RoRo Ferry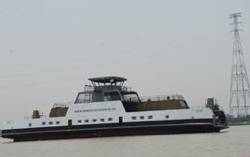 Western Marine Shipyard -- the emerging country's top shipbuilder – has launched a RORO ferry for Denmark's Hundested Rorvig Faergefart
Western Marine Shipyard has launched the 50 m long ferry Isef Jord a Danish roll-on-roll-off passenger ferry, constructed under the supervision of classification society Bureau Veritas.
The ship will be owned by Danish ferry operator Hundested Rorvig Faergefart. The contract for the ship is worth more than BDT 36 crore.
Denmark has a huge global fame in building the best quality ferries. In-fact, several inland ferries being used in Bangladesh were imported from Denmark, but now the tables have been turned, and from now on, Bangladesh is going to export ferries to Denmark. Thus Western Marine believe that, with the launch of this ferry, a new chapter for the shipbuilding industry of Bangladesh is being opened.
Western Marine was nominated for this project by the Danish Maritime Authority (DMA).
The ferry is expected to be handed over to the owner on June 2012.