Bangladesh Yard to Build Tanzanian Ferry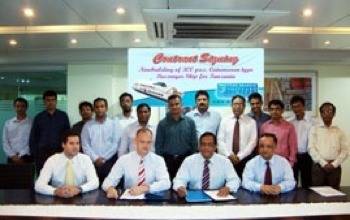 Western Marine Shipyard to build a passenger-carrying catamaran ferry for the Tanzania Ministry of Transportation.
The deal was signed by the Managing Director of Western Marine Shipyard Mr. Sakhawat Hossain and the Director of JGH Marine, Mr. Niels Holstein. (JGH Marine is the Danish Company which received notification from Tanzania of the contract award). The vessel will have a capacity for 300 passengers.
The ship will be 38m in length with a service speed of 20 knots. Western Marine say that the new ferry will be built at a cost of BDT 25 crore & they expect to deliver it to the owner by mid of 2014.

Western Marine Managing Director Mr. Sakhawat Hossain said that this project will be a break for them in the market of Africa. He said like Tanzania many other countries in Africa are developing their infrastructure system & thus these countries are in need of various types of ships. The Chairman of the shipyard Mr. Saiful Islam added that this was great news for the nation as this export order will add great value to the economy though foreign currency earning.