Rickmers-Linie Carries Bangladesh-Made Ferry to Denmark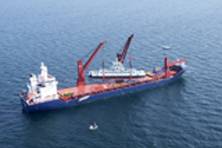 Floating craft like motor yachts, sailing yachts or catamarans are quite a regular sight on Rickmers-Linie vessels. However, the ferry which Rickmers-Linie carried from Bangladesh to Denmark on board the long-term charter vessel Baltic Winter is remarkable.
It is the first ferry built by a Bangladesh shipyard for European owners and will be put in service by Hundested-Rørvig Færgefart AS across the fjord after which the ferry is named: Isefjord. At a length of 49.80m and a breadth of 11.20m, the ferry's carrying capacity is 28 cars and 147 passengers. Her two main engines, with 500hp each, allow for a speed of approximately 11 knots. The total weight of the ferry is 470 tons.
The ferry was built by Western Marine Shipyard Ltd in Chittagong, Bangladesh. After delivery to her owners in February, she was taken on board the multipurpose heavy lift vessel Baltic Winter using its two 400-ton cranes in early March.
The transit to Denmark took six weeks and delivery of the ferry took place on Sunday, April 14 at Hundested roads with direct discharge into the waters of the Kattegat.
Takeover, lashing, securing and discharge were prepared and supervised by Rickmers-Linie's Cargo Transport Engineering team, ensuring a precise and smooth operation.
The Baltic Winter, soon to be renamed Rickmers Dubai, is a sister ship of the Rickmers Chennai, the charter of which Rickmers-Linie announced a week ago. These two vessels have the greatest lifting capability in the Rickmers fleet. Two 400-ton cranes that can be twinned to lift 800 tons are complemented by a 120-ton crane further forward.