Australian Warship Returns from Billion-Dollar Drug Interdiction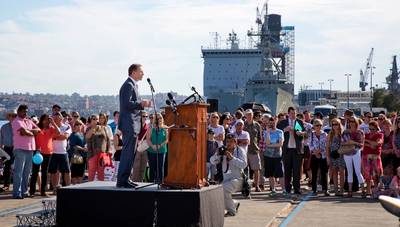 Families, friends and well-wishers joined Prime Minister Tony Abbott, Assistant Minister for Defence Stuart Robert and Chief of Navy Vice Admiral Ray Griggs AO, CSC, RAN at Garden Island, Sydney to welcome home HMAS Melbourne from a successful Middle East mission.
Assistant Minister for Defence Stuart Robert congratulated the 232-strong ship's company of HMAS Melbourne on her successful deployment, which saw her intercept more than $1 billion in illegal drugs.
Commanding Officer HMAS Melbourne, Commander Brian Schlegel RAN said his crew lived by their ship's motto 'Vires Acquirit Eundo' and gathered strength as they went.

"The crew deserve acknowledgement for their dedication during this deployment. The boarding party and embarked S70B-2 Seahawk helicopter crew were particularly busy and were outstanding in their performance," Commander Schlegel said.

"We had some notable achievements while deployed including the seizure of over half a tonne of heroin worth over $1 billion, which dealt a severe blow to those groups that use the money to fund unlawful activities."

"The additional seizure of almost 24 kilograms of methamphetamines and two tonnes of suspected cannabis resin, as well as the interception of nine suspected pirates off the coast of Somalia, were also important to securing the maritime environment for legitimate trade."

While deployed, HMAS Melbourne conducted maritime security counter-piracy, counter-terrorism and counter-narcotic operations as part of the 30 nation Combined Maritime Force. Her deployment marked the 56th rotation of a Royal Australian Navy ship to the region since the First Gulf War.