Bioremediation Goes Mainstream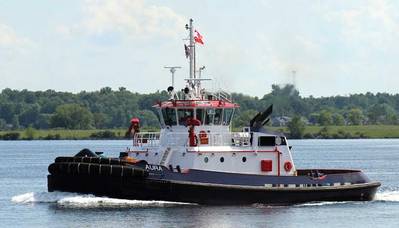 A reliable solution for response and prevention that can save money, time and regulatory aggravation is here.
The threat of oil pollution has long been a problem in the shipping community. You don't have to look too far to review the myriad of oil spills that have plagued the industry. The Exxon Valdez spill that occurred 25 years ago has recently come to the forefront once again as there is evidence that the ramifications of the spill are still being felt in the fragile eco-system of several Alaska beaches. Today's oil spill response industry has certainly been moving with the times by introducing more and more advanced technologies to contain spills when they occur but even the tried and true method of using skimmers and booms can only do so much.

Conventional Wisdom
Skimmers skim oil off the top of the surface; yet the oily mess has to be stored elsewhere and/or then transported to be disposed of. Booms help contain oil to stop it expanding in the affected area, but tools are still needed to pick up the oil that has to be once again treated at another location. 'Diapers' or absorbent pads are also typically used in oil spill situations but then the matter of disposal – the logistics and the cost – has to again be faced.
The big oil spills are only part of the picture. Everyday spills aboard all manner of ships as well as land-based marine facilities also occur more often than you might think. Oil and harmful contaminants seep into bilges and are run out through the waste stream and into the ocean or into soil. Galley hoods, surfaces and floors harbor bacteria that can get into food. The floors can also become very slippery as a result, which can cause a host of any number of slip-and-fall accidents.
In marine facilities, storm water runoff is a huge concern around soil contamination. A standard cleaner-degreaser product will only semi-clean the area but again, do nothing to break down the hydrocarbons in the waste stream. It's like putting a Band-Aid on a big open gash. And, then, there are the collection tanks. Often, hydrocarbons are bled out through a pump but then have to be moved offsite in order to be treated – another time-consuming, costly endeavor.
Bioremediation
While the shipping industry is going greener it is also trying to cut costs. So treating hydrocarbons in situ is definitely something to look into. There is where using the right kind of bioremediation products come in. The process of bioremediation is nature's way of solving contamination problems at the root of the cause. Tiny micro-organisms literally "eat" away at hydrocarbons, transforming them into a non-toxic combination of carbon dioxide and water, leaving surfaces like asphalt and workshop floors skid-free, countertops and floors shiny and clean, and hydraulic equipment looking like new.
This natural process then produces valuable bio-nutrients that can be utilized by both plant and aquatic life. Essentially, this means that wherever and whenever a spill occurs, you can treat it safely and effectively, with the confidence that it will not harm the environment or your employees.
Preventative maintenance is the key to overall reduction of toxic compounds in the industrial environment. That's where bioremediation products really prove their worth. When used in a regular maintenance program, the microbes will continually "eat" hydrocarbons, keeping work areas clean and free of residues.

Specific Solutions
EnviroLogic Biobased Technologies Inc, located in Philadelphia, has been developing industry-specific EPA-approved bioremediation products for over 20 years. One major result of their efforts is an honest claim they make that not one of their products has ever been returned for lack of performance. The product line includes over 30 solutions for the marine, aviation and food industries. When the U.S. Navy's Military Sealift Command (MSC) needed to solve the problem of dealing with harmful hydrocarbons in their ship bilges and holding tanks, they turned to EnviroLogic. The end result was a product called NavalKleen – a highly-concentrated, active mixture of hydrocarbon-oxidizing, naturally-occurring, single-celled micro-organisms with a "bio-surface cleaning agent" and water.
In this instance, Naval Kleen kept the oil content down in the bilges such that MSC experienced bilge oil content of 5 ppm or less prior to passing through the (OWS) oil separator system. The results helped extend the life of key components of the OWS, including ceramic filters.
"Military Sealift has been using NavalKleen II for over eight years," stated René Fry, a manager in the Chemical and Fuel Programs for MSC. "It is by far our single most popular cleaner on board MSC's 106 ships. We use it for several purposes, but all are associated with the removal of grease and oil from the surface of equipment, bilges and in our oil water systems, including our oily water separators with oil water content monitors. We rarely see our Oil content Monitor read anything above 5 ppm ever since we have used this product. Our waste oil bill used to be as much as $19 million. We are now below $7 million."
As EnviroLogic Vice President Mark Weinberg explains, "Use the product once and you've done the job of getting rid of hydrocarbons in a single shot. Use it as part of a regular maintenance routine, and you're actually continuing the process of bioremediation by keeping hydrocarbons under control. I'd venture that most of the other products companies use now, do not have this capability." Shipping companies such as Maersk Line have also seen the benefits in a real-world situation. In 2007, the M/V SL Atlantic suffered a large-scale contamination of one of the ship's double-bottom ballast water tanks as a result of a crack in the steel deck.
After the crack was repaired and the contaminated water was offloaded, it was found that there was still a significant amount of oily residue. The search for an effective cleaning product began, with less than optimal results from most, leaving the tank full of cleaning slops. Subsequently, the operators came across Naval Kleen II, an EnviroLogic cleaner-degreaser.
The ballast tank was refilled with sea water and Naval Kleen II was added. The ship then proceeded to sail several transatlantic voyages. Several lab tests were conducted and it was found that there was a significant reduction in hydrocarbon contamination.

Jeff Phelps, Vessel Manager of Maersk Line Ltd reported: "In our experience, Naval Kleen II has proven to be a highly effective product for mitigating oil contamination of ballast tanks." The oil and gas industry can now also benefit from another industry-specific bioremediation product. Rigwash was recently released by EnviroLogic and is the only bioremediation cleaner-degreaser awarded the Gold Standard by CEFAS, the UK's Centre for Environment, Fisheries & Aquaculture Science. This organization validates products used in the North Sea based on their effect on aquatic life, environments, etc.
Rigwash is a specific highly-concentrated formula that easily maximizes its use on oil rigs over long periods of time. Used in a regular preventative maintenance routine, the product's bioremedial microbes go to work in the waste stream right away and keep myriad of surfaces, floors and lines clean and working efficiently.

Selecting the Right Product
"How do you know what to look for in a bioremediation product you can trust?," asks EnviroLogic CEO Jay H. Murland. It turns out that the number one thing to watch for is if a product boasts a neutral pH, whether diluted or concentrated. However, the real truth is in the MSDS (Material Safety Data Sheet). Many products that claim to be "green," actually still contain Hazmat properties. On a MSDS sheet, the HMIS (Hazardous Materials Identification System) safety and health issue rating pertain to four areas: health, fire, reactivity, and hazard. The ratings with a zero (rare) indicate a purely clean and safe product. All of EnviroLogic's products have the zero rating.
Additionally, the EPA-term SARA (Superfund Amendments and Reauthorization Act of 1986 (U.S.) Hazard rating should show Title III Section 313: "Not Listed" and Fire (Section 311/312): "None" in order to prove full environmental compliance. (The SARA act amended the Comprehensive Environmental Response, Compensation, and Liability Act).
Most recently, EnviroLogic has added FOG microbes to NavalKleen so in addition to the product's quick ability to dramatically reduce hydrocarbon build-up and cut through fats and grease that often accumulate in the galley bilge, it can now also be used on galley floors; an all-in-one cleaning solution.
With today's stringent environmental regulations and zero risk goals in the shipping industry, it makes sense to use cost-effective, quality, proven bioremediation products in everyday marine and oil and gas applications. It's the smart way to save time, money and the environment.


(As published in the April 2014 edition of Marine News - www.marinelink.com)