Blue Atlantic Fabricators Wins Manufacturing Award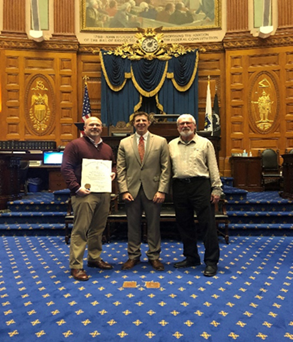 Maritime focused steel and aluminum fabrication specialist Blue Atlantic Fabricators said it has been awarded as 2019 Manufacturer of the Year by the Massachusetts Manufacturing Extension Partnership.
Formed in August 2014, the Manufacturing Caucus and Annual Manufacturing Awards includes more than 60 legislators from around the state of Massachusetts. Lawmakers focus on training for manufacturing employees; encouraging innovation by helping start-ups access resources; and expanding education and apprenticeship opportunities in key manufacturing centers. The goal of the caucus is to increase Massachusetts competitiveness in manufacturing by providing legislative support. The caucus is focused on expanding opportunities in vocational high schools and community colleges to combat the skills gap.
Owned by Nolan Associates, LLC, Blue Atlantic Fabricators specializes in quality steel and aluminum fabrication projects, focusing on maritime industry. Located in the East Boston Shipyard with direct waterfront access, Blue Atlantic Fabricators is positioned to provide structural steel components to the emerging US offshore wind industry constructors and developers, as well as being an optimal source for potential boat builds.
The company said it was nominated by Representative Adrian Madaro following a Blue Atlantic Fabricators/Boston Harbor Cruises Offshore tour last Spring.
"I'm excited to recognize Blue Atlantic Fabricators for this honor," Rep. Madaro said. "Blue Atlantic continues the storied tradition of maritime industry on the East Boston waterfront, providing jobs in the skilled trades for projects across Massachusetts. I am proud to have them as a member of our community."