Bollinger, Bouchard Contract for Tank Barges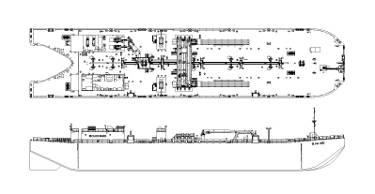 Bollinger Marine Fabricators, L.L.C., Amelia, La., a Bollinger Shipyards, Inc. company, has signed a contract for the new construction of a 55,000 barrel OPA'90 compliant tank barge with Bouchard Transportation Co., Inc., Melville, N.Y. Terms of the contract were not disclosed.
The announcement was made by Bollinger executive vice president of new construction,
Chris Bollinger
, "We are very pleased to announce the signing of the 55,000 BBL OPA'90 tank barge with Bouchard. Being a part of Bouchard's continued growth as a leader in the tank barge market has been an important part of Bollinger's success in building OPA'90 tank barges, and we look forward to future opportunities with the Bouchard organization and family."
The 55,000 BBL tank barge is a manned ocean service, clean oil barge measuring 317.5-ft long, with a 70-ft beam and a depth of 28 ft. Named the B. No. 250, the barge is a new design especially engineered for Bouchard, built and certified by American Bureau of Shipping (ABS) and the United States Coast Guard (USCG). The barge is designed to meet the requirements of the Oil Pollution Act of 1990 (OPA'90), with twelve cargo compartments and two separate pumping systems, capable of transporting grade A and lower petroleum products. B. No. 250 will be fitted with an Intercon coupling ladder system, dual pump ballast system, two Techcrane hose handling cranes, and Coastal marine anchor and mooring winches.
Morton S. Bouchard III, President/CEO of Bouchard Transportation Co., Inc. stated, "Bouchard has entered into another construction phase for quality, flat deck double hull barges, which will support our company goal to supply our present and new customers with quality equipment. I am once again pleased to have entered into this contract with Bollinger, who continues to supply Bouchard with quality workmanship and a product that meets our standards and expectations. Bouchard looks forward to additional new construction barges with Bollinger in the near future."