Bollinger Awarded More Sentinel Class Patrol Boats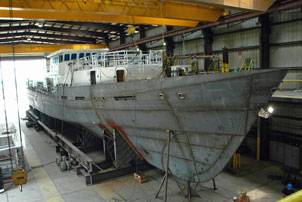 Bollinger Shipyards, Inc., Lockport, La., announced the award of four additional Sentinel Class Fast Response Cutters (FRCs). In a letter received on 14 September 2010 from the U.S. Coast Guard, Bollinger was notified of the four vessel award for the 154-ft cutter design, bringing the current contract to eight. The current FRC contract contains options for up to 34 cutters.

In September 2008, the USCG awarded Bollinger the contract for the initial FRC, named the Bernard C. Webber. The vessel is scheduled to be launched in November 2010, with delivery to the USCG in the second quarter of 2011. The vessel will be home ported in Miami, Florida. Following the award of the lead vessel, the first contract option for construction of three additional FRC vessels was awarded to Bollinger in December 2009, where they are currently under construction at Bollinger's Lockport facility. Following the second option award of four additional vessels, FRC number five started its construction process with RDML Korn initiating the Plasma cutting at Bollinger's Lockport facility on September 15th. The Lockport shipyard is the same location that has built every patrol boat in the Coast Guard's fleet, now totaling one hundred and thirty-one vessels, which spans three separate classes.

The Sentinel Class cutters will replace the 110-ft Island Class that Bollinger built in the 1980's. The cutters will have a top speed over twenty-eight knots and will be able to perform seven day patrols with their crew of twenty-two. The cutter will also have a 40 knot rigid inflatable boat that can be rapidly deployed using an innovative stern launching system that was first presented to the Coast Guard by Bollinger aboard the 87 foot Marine Protector Class cutters.