US Bolsters Navy Alliance with Korea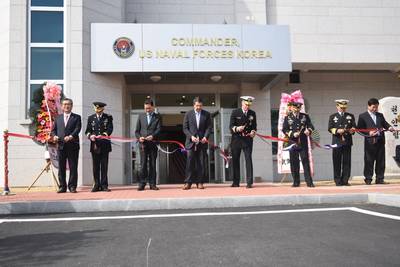 Commander, U.S. Naval Forces Korea (CNFK) conducted a ribbon-cutting ceremony February 19, officially opening its headquarters in Busan and ushering in a new era of U.S. and Republic of Korea Navy (ROKN) alliance.
The ceremony, attended by dignitaries and senior U.S. and ROK military leaders, marked the completion of CNFK's relocation to Busan making it the only U.S. military headquarters in Korea located on a ROK base.
"Five years in the planning, but 59 years in the making, Commander Naval Forces Korea is home in Busan," Rear Adm. Bill Byrne, commander of CNFK, said. "We are where we belong, shoulder-to-shoulder with the Republic of Korea Navy."
The relocation from Seoul to Busan enhances the alliance between the ROK and U.S. navies by enabling closer collaboration and communication and reinforces the strong relationship between the partner navies.
"Together we will continue to serve this nation, strengthen our friendship, and nurture this alliance," Byrne said. "This partnership, like this building, will stand the test of time."
ROKN Vice Adm. Lee, Ki-sik, commander of the ROK fleet in Busan, highlighted the importance of the partnership and the role this move will play in future operations.
"There is no doubt in my mind that by working together, face-to-face, in the same location in such critical times, we will further solidify the ROK and U.S. alliance, and our combined naval operations capability," said Lee. "[This move] will play a crucial role in the ROK-U.S. alliance's maintenance of peace on the
Korean peninsula
."
Army Gen. Curtis Scaparrotti, commander of U.S. Forces Korea, took the opportunity to emphasize the tight bond between the U.S. and ROK combined forces.
"Today's ribbon cutting truly represents a new chapter in our alliance," Scaparrotti said. "Five years of planning has become reality as our two naval commands join in one location, an act that symbolizes the traits that make our combined force great -- open communication, mutual values, and constant collaboration that were founded right here so many years ago."
U.S. Ambassador to Korea Mark Lippert closed the ceremony by stressing CNFK personnel were now part of the Busan community and echoed the overall sentiment that Busan is the new home for the U.S. Navy in Korea.
"This [Busan] is our new home," said Lippert. "We live here among our friends and neighbors. Our families live here intimately tied in with our local Busan community. Our children go to school here growing up together and shaping our futures together. We are here at our new home fully committed to this alliance."
CNFK is the regional commander for the U.S. Navy in the Republic of Korea and provides expertise on naval matters to area military commanders, including the Commander of the United Nations Command, the Combined Forces Command, and Commander, U.S. Forces Korea.