Bonhomme Richard, Pinckney Arrive for San Francisco Fleet Week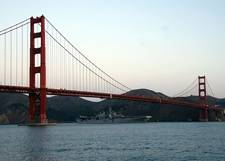 More than 1,500 Sailors and Marines aboard the amphibious assault ship USS Bonhomme Richard (LHD 6) and the guided missile destroyer USS Pinckney (DDG 91) arrived in Oct. 12 for the city's annual Fleet Week celebration.
Fleet Week San Francisco, held since 1981, is an opportunity for the public to meet their Navy and Marine Corps team. It also allows the Navy and Marine Corps to showcase their personnel, equipment, technology and capabilities while highlighting the history they have with .
During the three-day visit, Bonhomme Richard and Pinckney will host public ship visits and participate in various community events. This year's Fleet Week coincides with both the Navy's 233rd birthday as well as the 100th anniversary of the Great White Fleet.
Although 's Fleet Week has been an ongoing tradition for 27 years, for some Sailors it is their first visit to the area.
Also participating in Fleet Week San Francisco is the U.S. Coast Guard Cutter Bertholf (WMSL-750).