MTU Boosts Series 8000 Engine Power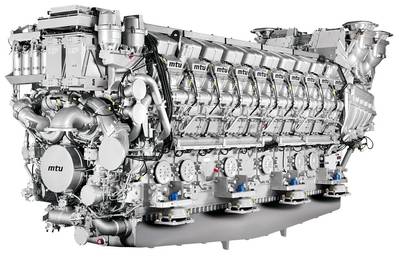 Series 8000 marine diesel engines from Tognum subsidiary MTU Friedrichshafen GmbH now available with an output of 10MW.

Previously, the 20-cylinder engine had a maximum output of 9,100kW. The IMO Tier II-compliant unit demonstrated its increased power and reliability during a project-specific endurance run over 1,500 hours under tropical conditions. The Series 8000 engines now cover a power range from 7,200kW to 10,000kW enabling MTU to offer economically efficient, diesel-based propulsion solutions producing up to 40MW per vessel.


Since their appearance in 2000, Series 8000 engines have set the benchmark for modern diesel propulsion plants in this power range. More than 130 units are currently in operation with a range of international customers and 40 more are on order, making Series 8000 the top seller in its performance class.


At the Euronaval Naval Defense Exhibition in Paris October 22 to 26, 2012, in addition to making this announcement, MTU also showcase a cut-away model of the Series 1163 main propulsion engine.

The unit is available in 12V, 16V and 20V cylinder configurations covering the power range 4,440kW to 7,400kW and is currently in operation in frigates and coast guard vessels among others.

Compliance with IMO Tier II emission targets is achieved using purely in-engine technology and without exhaust aftertreatment systems. It is envisaged that engines projected for IMO Tier III, due to come into force from 2016, will meet emissions targets using SCR technology.

MTU's exhibits will also include a model vessel with a combined diesel engine and gas turbine propulsion system (CODAG – Combined Diesel and Gas). The company's propulsion portfolio for naval vessels will be rounded off by charging units for submarines. The advanced-development version of the submarine diesel generator unit based on the Series 4000 and producing 1,300kW will be available from 2016.