Boskalis Win New Russian Port Contract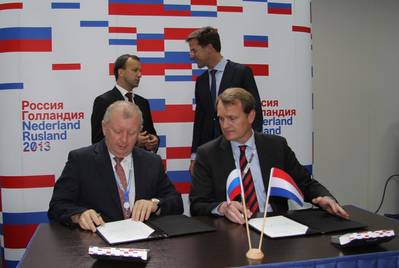 Royal Boskalis Westminster N.V. (Boskalis) announce a contract award for the the Bronka Port project in St Petersburg.
The contract was signed at the St Petersburg International Economic Forum in attendance of the Russian Deputy Prime Minister Mr. Arkady Dvorkovich and the Prime Minister of the Netherlands Mr. Mark Rutte.

The project involves the reclamation of land for the construction of the new port facility 'Bronka' in St Petersburg. A total volume of up to 3 million cubic meters sand will be dredged and reclaimed using trailer suction hopper dredgers to create approximately 85 hectares of new terminal area. The contract value is approximately EUR 25 million and the project is expected to be completed in 2013.
Royal Boskalis Westminster N.V. is a leading global services provider operating in the dredging, maritime infrastructure and maritime services sectors.