MJP, SwiftShips Team up on GoM Crewboat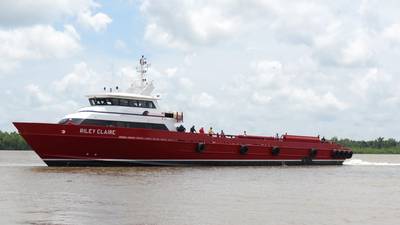 The sea trials of Rodi Marine's crewboat, the M/V Riley Claire, have given Marine Jet Power a major breakthrough in the Gulf of Mexico crewboat market. The trial results show that all performance predictions were reached.
The DP2 Certified Crewboat, built by Swiftships LLC, is powered by four MJP 650 CSU water jets. During sea trials in June, the M/V Riley Claire reached a peak speed of 30.3 knots in lightship condition and 24.0 knots fully loaded. The vessel's MJP waterjets are powered by four Cummins QSK 50 engines; each producing 1800HP at 1900RPM and connected through Twin Disc MGX 6848 gearboxes at a 2.03:1 ratio.
M/V Riley Claire, a USCG Subchapter T and ABS-classed all aluminium crew boat is 175 ft in length, has a beam of 25' and a moulded depth of 13ft6in. While servicing the Offshore Oil Marking in the Gulf of Mexico, she carries a total of 34,500 gallons of diesel and 20,500 gallons of water for operating. An additional 6,700 gallons of diesel and 1,230 gallons of freshwater are carried for the rigs. She is certified to carry 70 passengers and 10 crewmembers.
Riley Claire and her sister, which will soon be delivered to Rodi Marine, will be both the largest and fastest among the seven vessel fleet, representing an important achievement for MJP as the first Dynamic Positioning 2 (DP2) rated vessels. They are the first MJP vessels to operate in the Gulf of Mexico.
"We are starting to enter the Gulf market. We've wanted to be there for a long time," said Jordan Tilton of Marine Jet Power Inc. The two vessels also marked a return to the commercial sector for Swiftships, being the first vessels built after a five year period concentrating on military production.