Briggs Marine Orders Damen Multi Cat 2712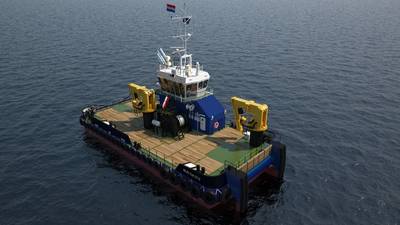 Briggs Marine and Environmental Services, the Fife, Scotland-based leading supplier of offshore services, has ordered a Damen Multi Cat 2712.
One of the largest models in Damen's extensive Multi Cat range, the 27-metre 2712 is a versatile workboat capable of taking on almost any role in the coastal environment. Designated the Forth Warrior, the new Multi Cat is currently being fitted out at Damen Shipyards Hardinxveld in the Netherlands. Special equipment being installed includes a DPS-1 system for use in activities such as windfarm support and a four-point mooring system for diving operations, featuring removable winches each capable of holding 320 metres of wire. Like all Damen Multi Cats, the 2712 provides spacious deck space for carrying equipment, complete 360° visibility from the deckhouse and a shallow draught for operations close to the shore. Other roles for the Forth Warrior will include anchor handling, dredging assistance and vessel support.
This is the third vessel that Briggs Marine has purchased from Damen in recent years. The first was the Forth Jouster Multi Cat 2611, a slightly smaller version of the 2712, and the second the 62 metre Anchor Handling Tug Supplier 75 Kingdom of Fife. Since its delivery, the Kingdom of Fife has been working on Briggs' £100 million contract to provide maintenance and mooring support for the UK's Royal Navy.
The Forth Warrior is due for delivery in June and will be deployed in the UK and beyond.