British Warship Honors Arctic Heroes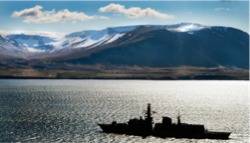 HMS St Albans honors Arctic heroes 70 years on
HMS St Albans has spent five days in Iceland to pay her respects to those mariners who took part in the convoys to the Soviet Union when sailors braved air and U-boat attack to deliver crucial aid 70 years ago.
In rugged surroundings, the Commanding Officer of HMS St Albans, Commander Tom Sharpe, and Britain's Ambassador to Iceland, Ian Whitting, cast a wreath into Hvalfjörður - a fjord which was once a vital staging area for the Arctic Convoys to the Soviet Union.
Seventy years ago this month, the lifeline delivering food, ammunition, trucks, tanks and other supplies to aid the Soviet war effort against the Third Reich entered a critical phase.
In May 1942, the 35 merchant ships of convoy PQ16 mustered in these same Icelandic waters. Despite a huge escorting force comprising British and American battleships, carriers, cruisers and destroyers, only 25 would safely reach their destinations of Murmansk and Arkhangelsk, having run a gauntlet of U-boats and Luftwaffe bombers off northern Norway.