Jaenichen Tours Port of Brownsville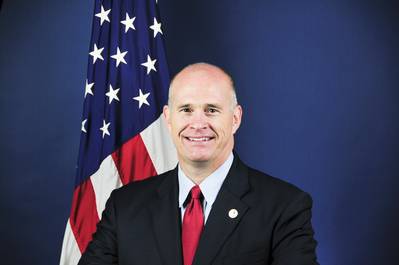 The U.S. Department of Transportation's Maritime Administrator Paul 'Chip' Jaenichen today visited the future site of a marine cargo dock at the Port of Brownsville made possible, in part, through a $12 million Transportation Investment Generating Economic Recovery (TIGER) discretionary grant from the U.S. Department of Transportation (DOT).
"By developing its facilities, the Port of Brownsville will accommodate more cargo, create new regional jobs, and grow the South Texas economy," said U.S. Transportation Secretary Anthony Foxx. "This is why we need Congress to pass a long-term transportation bill which will ensure that ports like this one will continue to thrive."
The new 600-ft long marine cargo dock, the second at the port, will enable the port to significantly boost capacity and freight volume, making the facility more competitive with domestic and foreign ports in the Gulf region. The project, which is scheduled to be completed in 2015, also includes a new storage yard near the dock, which will be used to store increased cargo. According to the Port of Brownsville, the port generates $2 billion in economic activity annually for the state of Texas, and more than 11,000 direct and related jobs that impact the local and regional economy.
The Port of Brownsville added matching funds for road, lighting and other improvements, all key components in its ongoing development.
"This is a great example of transportation providing opportunity," Administrator Jaenichen said. "Federal support for this project not only lays the foundation for long-term competiveness but also facilitates growth in exports with some our nation's largest trading partners."