Brunvoll to Equip Brazilian Research Support Vessel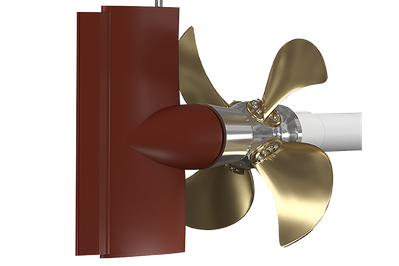 Norway-based Brunvoll said it has secured an "extensive" contract with shipbuilder Estaleiro Jurong Aracruz LTDA in Brazil for the delivery of a propulsion and maneuvering package for the Brazilian Ministry of Defense's new Antarctic Research Support vessel.
The delivery from Brunvoll comprises a variety of its own products and from its partners. Low noise and vibration levels arecrucial for conducting scientific research onboard an oceangoing vessel. Utilizing a fixed pitch propeller configuration with electrical motors directly coupled to the propeller shafts helps reduce noise and vibration levels from the main propulsion while ensuring high energy efficiency. To achieve the required redundancy for Antarctic exploration, a twin-screw arrangement is employed. Additionally, the delivery includes rudders with Integrated Costa Propulsion(ICP) and steering gears from partners.
Furthermore, two Rim-Driven Tunnel Thrusters will be installed in the aft, while the bow of the vessel will feature two waterjets which are outside of Brunvoll's scope. All the propulsion and maneuvering gear will be tied together in Brunvoll's Propulsion and Thruster Control System (BruCon PTC), which will feature BruCon DP2 with joystick.
‍The vessel will be named Almirante Saldanha and will supply Brazil's Antarctic research stations and conduct ocean research. It is designed in collaboration between Singaporean company Seatrium Ltd (formerly known as Sembcorp Marine Ltd) and Canadian company Robert Allan Ltd.
The construction of the vessel will take place at Estaleiro Jurong Aracruz LTDA in Brazil and it is expected to commence operations in the third quarter of 2025. The main specifications of the vessel include a length of 103.16 meters and a breadth of 18.5 meters, conforming to the polar class notation PC6. With a cruising speed of 12 knots, the vessel will have an endurance of 70 days to accommodate its crew of 95, which includes 26 scientists.