BSR Access Project Platform in Spotlight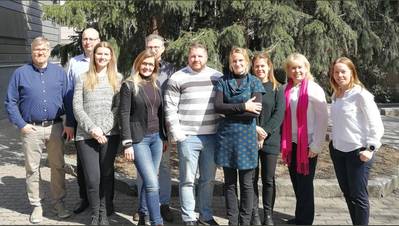 Port of Hamburg Marketing successfully takes part in tenders for EU- and nationally funded projects, together with members and partners from science, business and administration.

Focus is put on current issues of transport policy, transport and process optimization as well as modal shift actions towards more environmentally friendly modes. One of the on-going projects is the project platform BSR Access funded by the Intereg Baltic Sea Region (BSR) Program.

Project platforms support cooperation among partners of existing projects and aim to increase impacts of EU-funded projects in the area. They ensure more intensive use, better durability and transferability of the projects' outcomes.

The BSR Access platform facilitates innovative and sustainable transport by creating linkages between traditional infrastructure nodes and smart transport solutions to further develop the TEN-T Core Network Corridors and contributes to sustainable growth in the region. Synergies are created by collecting, benchmarking and disseminating the projects' best practice cases in transport interoperability.

Participating in project platforms is only open for lead partners. Thus, Port of Hamburg Marketing represents the EMMA and EMMA Extension in the BSR Access partnership.

Project EMMA, funded by the Interreg BSR Programme 2014—2020, has actively contributed to raising the awareness of the potential of inland navigation and giving inland waterway transport a stronger voice and better standing in EU policy and society. Several actions to develop inland shipping have recently taken place around the Baltic Sea Region.

EMMA Extension builds on the EMMA projects' analyses, results and recommendations. Inland navigation in logistics chains is one of the inadequately addressed topics that BSR Access adds competence to. More attention will be paid also to topics such as coherent alternative fuel models across national borders, aligning of long-haul transport with first and last mile delivery, and inter-dependencies between spatial and transport planning.

In addition to Port of Hamburg Marketing, BSR Access combines expertise from Interreg BSR projects NSB CoRe, TENTacle and Scandria 2Act as well as E12 Atlantica Transport of Interreg Botnia-Atlantica, FinEst Link of Interreg Central Baltic, and Green Regions with Alternative Fuels for Transport, funded by the EU Connecting Europe Facility. The lead partner of the BSR Access platform is Helsinki-Uusimaa Reginal Council (lead partner of NSB CoRe).

BSR Access is the first project and communication platform to combine viewpoints of three TEN-T European Coordinators (Scandinavian-Mediterranean, North Sea–Baltic and Baltic–Adriatic TEN-T core network corridors), EUSBSR Priority Area Transport and Horizontal Action Spatial Planning Coordinators as well as a wide community of public and private transport stakeholders.