Crystal Cruise Ship Grows Plants on Bulkhead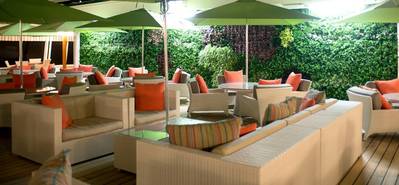 Crystal Cruises unveils the world's first self-contained, free-standing 'living wall' at sea, with indoor plants depicting a world map.

A living wall is a vertical garden that is pre-planted in panels and then attached to the wall or facade of a building. Plants stay intact in their vertical positions because their root structures are anchored in two to four inches of soil kept within the panel. According to Crystal Cruises a living wall acts as a bio filter, enhancing air quality by breaking down harmful airborne contaminants and transforming them into clean oxygen. By absorbing carbon dioxide and releasing oxygen, it reduces greenhouse gases in the atmosphere.

Created and crafted by UK-based ANS Group Europe who spent two days installing the living wall on the 922-guest Crystal Symphony as the ship sailed from Portland to Dover to complete its 11-night "British Isle Brilliance" voyage.

Designed for an al fresco area in the ship's Deck 11 Trident Grill, the unique living wall uses a varied and diverse selection of indoor plants to display a world map. The living wall is 37.7 feet (11.5 meters) long and 7.9 feet (2.4 meters) high and will receive regular maintenance by Crystal Symphony's onboard team of florists.

Joel Nash, marketing manager for ANS Group Europe added, "This bespoke project is an exciting and exhilarating scheme. Installing living walls on a cruise ship is taking us to a completely new level and opens up all sorts of possibilities. When you think this wall will be travelling as far north as Lapland and down to Cape Horn, it takes your breath away."