Long Beach, California, to Feature 'Queen Mary' Expo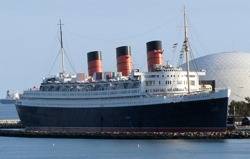 Historic Cunarder 'Queen Mary' preserved at Long Beach will be home to large exhibits of Lady Di memorabilia
The iconic ship and Pink Ribbons Crusade have teamed up to open "Diana: Legacy of a Princess Comes to Long Beach and the Queen Mary," an exhibit of more than 2,000 artifacts - many of them never before showcased - that will feature gowns worn by the princess, letters, designer sketches and other items, reports the 'Press Telegram of Long Beach'
The Queen Mary and The Pink Ribbons Crusade also announced that they will dedicate part of the proceeds from the attraction to a nonprofit charity in Southern California. Both groups are asking charities to apply for this money.
The exhibition, which will be open on June 16 and will stay for at least a year, also will feature a history of the royal family's lineage and the oceanliner's role in ferrying royalty.
The oceanliner will be the first venue to display the full collection of more than 2,000 pieces. Many of them have never been displayed, including a garden bench that was a wedding gift for Prince Charles and Princess Diana. The bench - with the couple's initials engraved - was sold at auction to Pink Ribbon Crusade and had been sitting in a warehouse.
The collection took nearly 30 years to assemble. Founded in early 2000 by Jess and Suzanne King of Austin, Pink Ribbons Crusade is a non-profit organization that supports breast cancer awareness through the princess' dresses and other memorabilia that the couple has collected over the years.ion