Canadian Seaway: Transit Rate Increase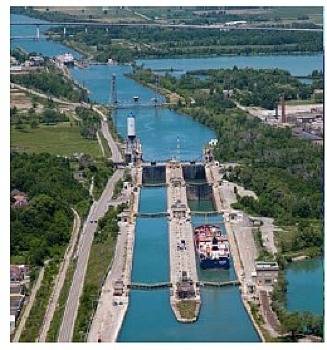 The Canadian St. Lawrence Seaway Management Corporation (SLSMC) increase tolls 3% for 2013 season.
There are no tolls charged for transiting the U.S. section of the Seaway's lock system which is operated by the U.S. Saint Lawrence Seaway Development Corporation.
More than 39 million metric tonnes of cargo transited the Seaway during the 2012 navigation season which represented a 4 percent increase in cargo volume. The increase in cargo tonnage reflects the modest economic recovery taking place within the Seaway's client base and the emergence of new trade patterns. "Our carriers are making significant progress in building their share of the cargo market. The continuation of the Seaway's existing business incentive programs and the pending introduction of a new Gateway Incentive will serve to extend the marine mode's competitive position, and generate new business" said Bruce Hodgson, Director of Market Development for the SLSMC.

Terence Bowles, President and CEO of the SLSMC, said: "We continue to invest in the renewal of the Seaway infrastructure so as to provide the high reliability users have become accustomed to. We are also diligently advancing efforts to reduce system costs and bring more cargo into the Seaway. To this end, we are moving forward with testing of our Hands Free Mooring technology, as part of our transit of the future initiative".

The Great Lakes Seaway System navigation system supports over 227,000 jobs and $35 billion of economic activity annually in the U.S. and Canada. Since its inception in 1959, more than 2.5 billion tonnes of cargo valued at over $375 billion have moved via the Seaway. The SLSMC and its partners at the U.S. Saint Lawrence Seaway Development Corporation (SLSDC) remain are committed to leveraging technology and making the necessary infrastructure investments to enhance the Seaway's performance, promoting the economic and environmental advantages tied to marine transportation, and attracting new cargoes to the Seaway.