HMAS Canberra Returns From Fiji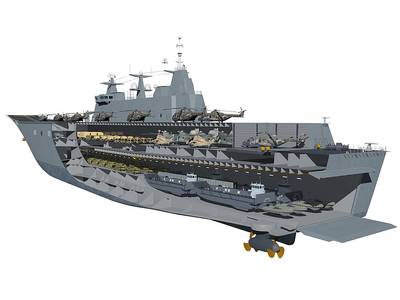 HMAS Canberra has returned to Australia following its successful maiden deployment to Fiji in the wake of Tropical Cyclone Winston.

Following a request from the Fijian Government, HMAS Canberra was deployed to Fiji on 1 March to deliver much needed humanitarian aid and assistance.

HMAS Canberra was loaded with 60 tonnes of emergency relief supplies, three MRH-90 helicopters and around 760 Australian Defence Force personnel including engineers, carpenters, electricians and plumbers. Australian forces worked closely with Fijian authorities to conduct recovery efforts and engineering assessments.

At the request of the Fijian Government, around 200 Defence personnel will remain as a Suva-based humanitarian assistance and disaster relief force. Four MRH-90 helicopters from Townsville's 5th Aviation Regiment will also remain to support Fiji's National Disaster Management Office.

HMAS Canberra will unload Queensland-based personnel and equipment in Brisbane today before arriving in Sydney later this week.