Panama Canal Sees Record Grain, Salt Cargoes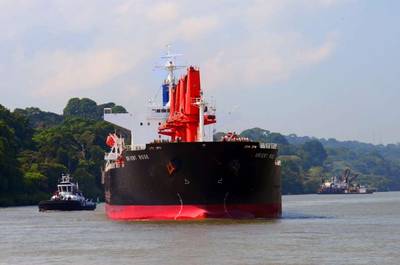 From October 2014 through March 2015, cargo shipments in dry bulkers through the Panama Canal increased by 8 percent, equaling 66 million long tons in total.
During this time, the
Panama Canal registered
more than 2,008 transits of dry bulkers, which is 257 more transits compared to the previous fiscal year. The surge in cargo traffic was driven mainly by grains, salt, minerals, metals and manufactures of iron and steel.
Furthermore, dry bulkers moved nearly 50 percent of total canal cargo and are the second leading vessel type transiting the waterway.
Grains registered a record 32.8 million long tons, which correlates to an 8.5 percent increase. The
United States
is the main source for grain trade through the Panama Canal.
In addition, transits of soybean and corn cargo tonnage continued increasing steadily; though, their increase was moderate compared to sorghum. Sorghum, which is used for industrial processes, including in the preparation of liquors and animal feed, saw an 85.5 percent increase in shipments compared to the first quarter of 2014.
Salt cargoes also reached record levels, registering 6.5 million long tons for the first six months of fiscal year 2015, an increase of 43.2 percent. Before transiting the Panama Canal, salt shipments originate in Chile and the Pacific Coast of Mexico, and reach their final destination in the United States.
Countries such as Chile and Peru, who export copper and zinc, have taken advantage of the Canal's route to reach markets on the East Coast of the United States, and Europe.
Exporters of iron and steel in
South Korea
, China and Japan alongside exporters of fertilizer from Peru and China have also utilized the Panama Canal's reliable route.