Caribbean Patrol Boats Impress During Trials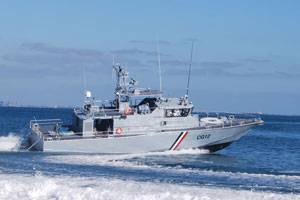 The Trinidad and Tobago Coast Guard (TTCG) has described the speed and manoeuvrability of its Austal-built 98.4 ft patrol boats as impressive following recent sea trials in Western Australia. Ordered in 2008, half of the six-vessel fleet has already commenced a 33-day delivery voyage to Trinidad and Tobago, with the remaining three on schedule for completion at the end of the year.

Each vessel will be armed with general purpose machine guns, and a 20mm cannon. They will enable the TTCG to provide sustained surveillance in the country's internal waters, the archipelagic territorial sea and its exclusive economic zone.

Recent sea trials demonstrated the manoeuvrability of the lightweight, all-aluminium platform, which achieved a maximum speed of more than 40 knots, as well as a small tactical diameter and short crash stop distance.

Director of Trinidad's Defence Transformation and Integration Secretariat, CDRE Garnet Best, said the TTCG had been impressed with the performance of the vessels so far.

"Our first impressions of the vessel were excellent, with the boat manoeuvring well and the speed right up over 40 knots," CDRE Best said.

"We were also impressed with the noise levels inside the vessel, given many similar vessels can be quite noisy. These vessels will be the first of their size in the Trinidad and Tobago Coast Guard with water jets and as far as I have seen the technology is very good."

Austal was awarded the contract following a competitive international tender process. Austal is also providing crew training and five years of scheduled and unscheduled maintenance services in Trinidad and Tobago under the contract.

The first three vessels – TTS Scarlet Ibis, TTS Hibiscus and TTS Hummingbird – departed Austal last month and are likely to be available for the 2009 Commonwealth Heads of Government Meeting (CHOGM), held in Trinidad and Tobago in November.

According to CDRE Best, the vessels would be used to create a security blanket around the waters of Trinidad and Tobago. Sea trials are currently underway on the remaining three vessels.