Bulk Carrier Catches Fire, Sinks off Oman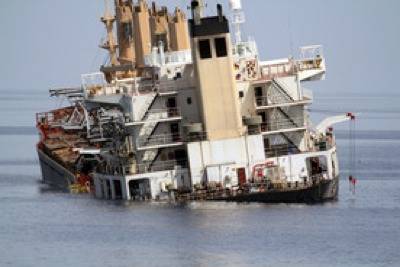 The Liberian-flag bulker 'Atlantik Confidence' reported an engine room fire and sank over the Easter week-end.
Rescue of the 21-member Turkish crew was supervised by USS Nicholas which was dispatched from routine NATO Task Force counter-piracy operations in the area.
The U.S. warship took command of the rescue operation and sent its helicopter to cover the 80 miles to the vessel to assess the immediate needs. Upon reaching the scene it was observed that the merchant vessel was already partially sunk but still floating.

After verifying that the survivors appeared to be safely in life-boats and did not need immediate medical assistance, the NATO ship coordinated the embarkation of the survivors on board the oil tanker, 'Pluto', which was transiting the area and also manned entirely by a Turkish crew.
The Atlantik Confidence was later reported sunk approximately 150 nm south-east of Masirah Island, Oman.