Otto Marine Name AHTS, Sign Cement Carrier MOU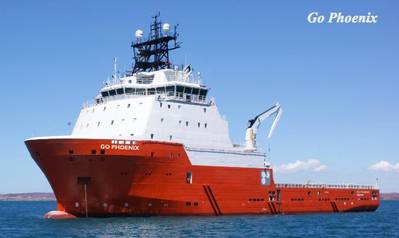 Singapore's Otto Marine celebrate the completion of another unit of one of the world's largest and most complex AHTS from its Batam shipyard, and also announce they have signed a MOU for newbuilding and conversion of cement carrier vessels.
AHTS newbuilding
Norwegian designed and DNV classed, Go Phoenix is a highly complex VS491 24,000bhp Anchor Handling Tug Supply ("AHTS") vessel which is the second of four of its kind to be built in Asia on a turnkey basis. Counted among the world's ultra large AHTS vessels, it is a hybrid propulsion diesel electric driven vessel which is environmental friendly and fuel efficient.

Equipped with dynamic positioning 2 technology ("DP 2"), fire fighting 2 capabilities and up to 260 tonnes of bollard pull, 'Go Phoenix' is capable of operating in harsh environments of oil and gas fields globally.
Cement carrier MOU
Otto Marine has signed a Memorandum of Understanding for the newbuilding of five cement carriers with capacities in the range of 7,500 deadweight tonnes to 15,000 DWT. Conversion works will be carried out in Otto Marine's shipyard in Batam.

Apart from the firm orders, there is also potential for the Group to secure contracts for the conversion of two additional bulk carriers into cement carriers, and a further order for a 3,500bhp Ocean Towing Tug from the same Indonesian customer.

Mr. Garrick Stanley, Chief Executive Officer said: "The Group is pleased to see the promise of a good order flow for our shipyard operations. Since the beginning of the year, we have made preparations and put in place a strong operational team to drive our focus on ship repair, conversion and fabrication projects going forward. Apart from our mainstay focus on the offshore and marine sector, concentrating on these services allows us to benefit from the growth in other sectors such as the cement industry."