Carl Vinson Carrier Strike Group Returns from WESTPAC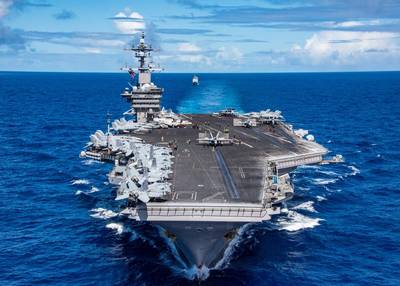 The aircraft carrier USS Carl Vinson (CVN 70), Ticonderoga class guided-missile cruiser USS Lake Champlain (CG 57), Arleigh Burke-class guided-missile destroyer USS Wayne E. Meyer (DDG 108), along with embarked Carrier Strike Group (CSG) 1, Carrier Air Wing (CVW) 2, and Destroyer Squadron (DESRON) 1 arrived in San Diego June 23, following a five-and-a-half-month deployment to the Western Pacific.
Carl Vinson, Lake Champlain, Wayne E. Meyer and embarked air wing and staffs departed San Diego for a regularly-scheduled deployment with the Carl Vinson Carrier Strike Group as part of the U.S. Pacific Fleet-led initiative to extend the command and control functions of U.S. 3rd Fleet into the Indo-Asia-Pacific region, Jan. 5.
Arleigh Burke-class guided-missile destroyer USS Michael Murphy (DDG 112), also part of the strike group, departed from its homeport of Pearl Harbor, Hawaii, Jan. 13, and returned, June 13.
Commander Carrier Strike Group (CSG) 1, Rear Adm. James W. Kilby spoke to media gathered for the Carl Vinson homecoming at Naval Air Station North Island.
"The Carl Vinson Carrier Strike Group met the tasking of its leaders and fulfilled its mission to reassure our allies and partners of the U.S.'s commitment to the Indo-
Asia Pacific region
," said Kilby. "I can tell you, our partner nations were very happy with the flexibility, capability and commitment that our Carrier Strike Group brought; none of which is possible without San Diego's Sailors and
America
's sons and daughters who safely and successfully completed the mission."
Embarked aviation squadrons of CVW-2 include the "Black Knights" of Helicopter Sea Combat Squadron (HSC) 4, the "Blue Hawks" of Helicopter Maritime Strike Squadron (HSM 78), the "Bounty Hunters" of Strike Fighter Squadrons (VFA) 2, the "Blue Blasters" of VFA-34, the "Kestrels" of VFA-137, the "Golden Dragons" of VFA-192, the "Black Eagles" of Carrier Airborne Early Warning Squadron (VAW) 113, the "Gauntlets" of Electronic Attack Squadron (VAQ) 136 and the "Providers" of Fleet Logistic Support Squadron (VRC) 30.
During the deployment, the strike group conducted operations with the Republic of Korea (ROK) Navy and the Japan Maritime Self-Defense Force consisting of visit, board, search and seizure drills, tactical maneuvering, flag hoisting drills, and air, surface and anti-submarine warfare training.
The strike group also participated in the maritime portion of Exercise Foal Eagle, a series of annual defense-oriented training events designed to increase readiness to defend the ROK, protect the region, and maintain stability on the Korean Peninsula. The exercise was conducted by ROK-U.S. Combined Forces Command and United States component commands in Korea, to include ground, air, naval and special operations.
Additionally, Michael Murphy conducted an 18-day joint mission with the U.S. Coast Guard in the Central and South Pacific under the Oceania Maritime Security Initiative (OMSI) to combat transnational crimes, enforce fisheries laws and enhance regional security.
Over the five-and-a-half month span, the strike group conducted port visits in Fiji, Guam, Republic of Korea, Malaysia, Saipan, Singapore and Solomon Islands. While visiting each port, Sailors participated in numerous community service events, including volunteer service at schools, community centers, animal shelters and food banks.
"I couldn't be more proud of what we were able to provide to the Strike Group Commander and to our allies," said Capt. Douglas Verissimo, commanding officer of Carl Vinson. "But what gets me up every day are the 5,000-plus Sailors who make this all work. They are a true representation of America's finest and we are happy to be back home in San Diego."
U.S. 3rd Fleet leads naval forces in the Pacific and provides the realistic, relevant training necessary for an effective global Navy. Third Fleet constantly coordinates with U.S. 7th Fleet to plan and execute missions based on their complementary strengths to promote ongoing peace, security, and stability throughout the entire Pacific theater of operations.