On Deck: Cashing in on Safety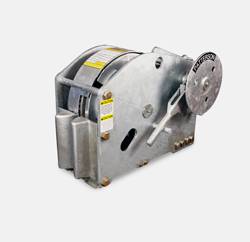 Patterson's YoYo Barge Winch transcends efficiency, while creating a markedly safer workplace.
In business since 1858, the Patterson Company of Pittsburgh, PA has shown the staying power like few others in the ever-changing and always competitive marine industry. A barge and towboat winch manufacturer more than a half century, the company is primarily known for their contributions to that market even today. Their newest entry into the winch market – the Patterson YoYo Winch – may be their most important ever. That's because the revolutionary money and timesaving winch also translates into untold gains in safety and reduction in lost man hours.

Unlike efficiency gains, safety is much more difficult metric to track. Take Patterson's online savings calculator, for example. Accessed by clicking www.pattersonmfg.com/calculator.html,

The ROI device calculates operational cost per boat, per trip and the time savings netted by simply changing to the Patterson Yoyo winch. In the end, time equals money and Patterson and its loyal clients have proven that the winch can reduce the time to make up barge tows by more than half, allowing more hauling time and runs for their equipment. The time to amortize the additional cost of a YoYo Winch is therefore easy to figure. Safety, on the other hand, is just as important and perhaps an overlooked aspect of the Patterson story.

Listening to the needs of their customers, Patterson produced a YoYo Winch that is both safer and more reliable, eliminating fouling and springcoil, while controlling spooling with its singlestacking design. And, while that means the job will get done faster with tremendous cost savings, it is also safer. Barge laborers accustomed to seeing as many as 5 different types of winch in a single day never want to see (or carry) a ratchet again. For fleet standardization reasons alone, the winch makes sense on many levels.

Completely different from anything else on today's market, YoYo's operation is simple and safe, utilizing a patented double-dog design that allows easy maximum line tensioning. Perhaps more importantly, the YoYo's contained springcoil eliminates injuries due to rope memory. And, in an industry where a primary cost of operating tonnage – especially here in the United States – can be claims from seamen for on-the-job injuries, safety gains achieved through the YoYo Winch can, for some operators, eclipse operational gains.
The Patterson YoYo Advantage:

Safety Ease of Operation Faster Specifications
Contained spring coil virtually eliminates injuries due to rope memory Operation is simple for your crew and requires minimal if any guidance. Intuitive one-man operation. Capacity – 80,000 lbs
Eliminates 'bird nesting' or 'fouling' or wire rope on the winch drum Requires little or no re-tightening while the barge is underway. Patented double-dog design makes for easy maximum line tensioning Typical Line tension – 26,000 lbs
Full gear shroud protects wire rope, gearing and operators. Easiest wire rope payout/pull-off in the industry. Fully open design makes the winch safe, easy, and a pleasure to operate Drum Capacity – 1" 25'
Significantly reduce financial losses related to medical and time-lost bills. Easier to obtain higher line tension without exerting any additional effort. Markedly reduced failures keep barge equipment in service available for increased cargo hauling. Overall W x H – 22.7" x 28.9"
Today, over 3,000 YoYo winches, representing just 5 percent of the market, are in operation on the nation's waterways. For the larger operator who might operate thousands of barges and has not yet made the switch, the potential downstream benefits are easy to calculate. And since there have been no instances of YoYo winches ever fouling, the savings go well beyond time clocked to make up the unit. A barge with a fouled "birdnested" standard winch must go out of service until rectified. That's just one of many reasons companies like American Electric Power and Campbell Transportation Compa¬ny (CTC) have chosen the Patterson YoYo Winch for fleet operations.

(*) Taken From MarineNews January 2012 print edition
In the more than 100 years since the first patent to tie barges together was taken out, the technology has arguably not moved forward very much – until now. Today, three primary manufacturers distribute multiple winches. Someday, the simple utility of YoYo Winches could eclipse all of them. Appealing strictly to the bottom line, the use of YoYo Winches over the breadth of a large inland fleet can annually save towing companies millions of dollars. That's not only a wise move; it's a safe bet. www.pattersonmfg.com