LNG Plant Support Catamarans Deployed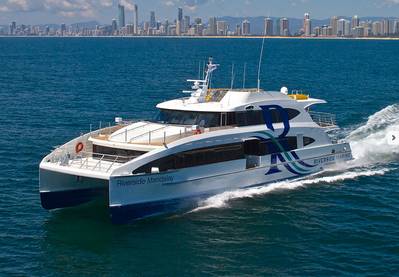 Riverside Marine & Incat Crowther new passenger catamarans deployed to support construction, operation of Queensland, Australia QCLNG plant.

The two new 32m catamarans Riverside Catalina and Riverside Mandalay will assist at the Curtis Island QCLNG plant in Gladstone, Queensland, Australia.

Riverside Marine partnered with Incat Crowther in the development of a transport solution specifically for the Curtis Island QCLNG project. In response to a competitive tender, Riverside Marine were selected as offering the optimum package.

The two vessels were launched by Marine Engineering Consultants on Queensland's Gold Coast and recently delivered to Gladstone. The vessels have proven to be the most fuel efficient, and offer the lowest cost of operation their type in operation to and from the QCLNG site.

Configured to carry 399 passengers and featuring boarding ramps aft and amidships, Riverside Catalina and Riverside Mandalay are designed to integrate with the Gladstone harbour docks, and give the boat flexible boarding options. Demonstrating diversity and breadth of experience, Incat Crowther was also involved in the engineering of many of the ferry terminals at Gladstone and on Curtis Island.

A pair of Caterpillar C32 main engines, each rated at 970kW, drive fixed pitch propellers. The twin engine, propeller configuration was chosen to answer the brief of simplicity and reliability, characteristics that have been crucial to Riverside Marine's success in all their operations.
Performance on sea trials was strong, with Riverside Catalina achieving almost 30 knots whilst the service speed of 25 knots was achieved at 65% MCR. With a 400 passenger capacity, this represents class-leading per-passenger costs, all with the reliability and simplicity of propeller propulsion.

The vessels are also adaptable to a "second life" in tourism operations, with an alternative seating arrangement and offshore capability factored into their structures. With reduced passenger numbers and more interior space, the second life layout will enable the vessels to operate under NSCV 1C survey, allowing service areas such as the Great Barrier Reef and the Islands of North Queensland. With operations spanning from the Whitsundays to Sydney Harbour, Riverside Marine developed a vessel that would fit into the diversity of its operations, should the vessel need to be deployed elsewhere.