Jamaica Elected to Council C Category of IMO Council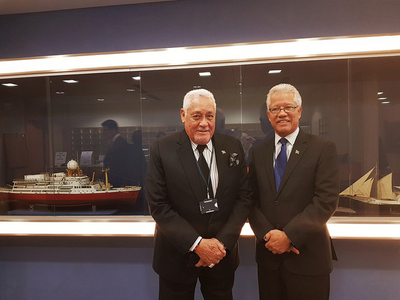 Jamaica has reestablished its position at the heart of international maritime rule-making following its election to the International Maritime Organization's (IMO) Council. The nation was elected as a Category C Council member on December 1, and will serve until 2019.

The Maritime Authority of Jamaica's (MAJ) Director General, Rear Admiral Peter Brady previously chaired the former IMO's Standards of Training and Watchkeeping (STW) sub-committee between 2003 and 2012, now called the Human Resource Training and Watchkeeping Sub Committee. In 2007 he was first appointed to the Board of Governors of the World Maritime University in Malmö, Sweden, and in 2015 was elected as Vice-Chairman of the Board and has since presided at the annual meeting as Chairman in May 2016. Earlier this year he was appointed Special Envoy to the IMO.

Speaking at the IMO's 30th Assembly meeting in London on December 1, Minister of Transport and Mining The Honorable Michael Henry CD MP said, "As a seafarer supply country the government is committed to the training, as well as the right of seafarers to decent living and working conditions. We are also concerned with the cases of abandonment of seafarers and support the work of the IMO and ILO to address this issue. In keeping with this commitment, this year we acceded to the Maritime Labor Convention, 2006.

"Climate change is a concern for all of us, and Caribbean countries have felt the consequences of hurricanes this year. My government supports the Roadmap of the IMO to reduce GHG emissions from international shipping, and has established a Committee to consider a comprehensive National Emissions Policy, which will address, among other things, GHG emissions from ships in our ports and harbors."

As the largest English-speaking Island state in the Caribbean, Jamaica has had a long history of involvement in maritime affairs, which has played an integral role in the socio-economic development of the country. It has been a member of the IMO since 1976 and was first elected onto the Council in 2007. It was re-elected for the terms of 2010-2011, 2012-2013 and 2014-2015.