Caterpillar Powers Indian Coast Guard Patrol Boats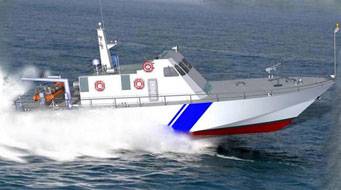 Caterpillar Marine Power Systems was recently selected to supply the Indian Coast Guard (ICG) with 72x Cat 3516C marine propulsion engines (2525 bkW @ 1800 RPM, 'D' Rating) and 72x C4.4 auxiliary generator sets (86 eKW @ 1500 RPM) to power 36 Interceptor Boats, which will be built by Larsen & Toubro Limited (L&T), Mumbai. The patrol boats will be constructed with an aluminum alloy hull and feature water jet propulsion.

"Globally the demand for power systems applications in patrol boats is on the rise. The 3516C marine engine and C4.4 generator set have demonstrated superior capabilities in patrol boats around the globe, delivering exceptional results when it matters the most," said Kody Chan, Sales Manager – Asia Pacific.

The engines and generator sets will be delivered over the course of three years, with the project scheduled to conclude in late 2013. The L & T Ship Design Center in Mumbai utilized the 3516C engine for much of the design work and finalized the decision to use Cat engines once tank test (scale model testing) was completed.

In recent years, the Indian government has committed to strengthening the resources in the Indian Navy and the Indian Coast Guard. In early 2010, L&T won a contract to design and build patrol boats for the ICG. Construction will be completed at L&T shipyards in Hazira and Katupalli.

Cat dealer Gmmco, located in India, will provide stellar product support and customer service to L&T and the Indian Coast Guard. With local Cat dealer product support offered at every port along the Indian coastline, routine maintenance and service assistance will be readily available for the Coast Guard.