Cathelco, UMC Complete 1st Project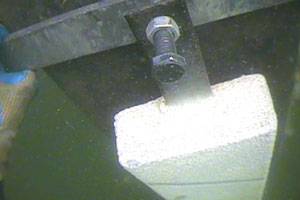 The first joint venture project between Cathelco and UMC International has been completed at the Yonderberry fuelling jetty at Torpoint in Plymouth.

Earlier this year, the two companies created an alliance enabling the specialist diving services of UMC International to be used for the installation and maintenance of corrosion protection systems supplied by Cathelco.

The Yonderberry jetty project, commissioned by Babcock, has involved installing a new sacrificial anode system that will protect the steel piles of the north and south 'dolphins' used for mooring vessels during refuelling.

Yonderberry Jetty is a strategic fuelling jetty based on the UK South Coast that serves ships operating from HMNB Devonport, the largest naval base in Western Europe. The Corrintec division of Cathelco has supplied 25 sacrificial anodes for each of the 'dolphins' which are attached by brackets to the steelwork using a team of specialist divers from UMC International.

Through their background of experience UMC have devised specialized techniques for handling anodes underwater. This involves lowering them on polypropylene carriers which offer a degree of buoyancy as they are maneuvered into position.

Previously, the 'dolphins' had been protected against corrosion using 'anode sleds' positioned on the river bed, but it was found that these alone did not provide a sufficiently high level of protection. Another aspect of the project was for the divers to remove accumulated silt from the submerged 'anode sleds' using air hoses.

Prior to anode installation, Corrintec undertook surveys to establish the existing level of cathodic protection and followed this up with a mid-dive survey. A comprehensive survey was conducted at the end of the installation to confirm that the new cathodic protection system was offering the optimum level of corrosion protection.

Cathelco, based in Chesterfield, United Kingdom are world leaders in marine pipework anti-fouling systems for ships and offshore structures with a record of 20,000 installations over a period of more than 50 years.

The Corrintec division specialises in cathodic protection systems for jetties, pipelines and industrial installations. These can be based on sacrificial anodes or impressed current cathodic protection (ICCP) technology.

UMC International, a member of the V.Group, is a worldwide supplier of underwater engineering and maintenance services and products to commercial, naval and offshore vessels and platforms.