Cayo Largo Deployed to Assist Haitian Relief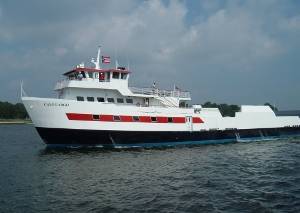 Puerto Rico Maritime Transportation Authority (PRMTA) deployed the 300 passenger / 300 ton cargo vessel, M/V Cayo Largo to Barahona, Dominican Republic to assist in the humanitarian effort for Haiti. The vessel, which was designed and built by Blount Boats, Inc. of Warren, R.I., has been in service between the port of Fajardo on the east coast of Puerto Rico and the islands of Culebra and Vieques since her delivery in 2008.

The vessel has an overall length of 162 ft, a beam of 46 ft, and draws less than eight ft of water loaded. These particulars, combined with her large cargo deck and stern ramp, allows the M/V Cayo Largo to utilize piers and bulkheads of opportunity to deliver badly needed aid and supplies to the people of Haiti.
"The Cayo Largo is being used to transport humanitarian aid from Puerto Rico to the Dominican Republic, where it can be moved over land to Haiti. We are currently moving equipment, food, supplies and over 65 doctors, medics and aid workers" said Ibsen Santiago Flores, Executive Director of the Puerto Rico Maritime Transportation Authority.

Bristol Harbor Group, Inc., Bristol, R.I., developed the performance specifications for the vessel back in 2005, then oversaw the acquisition, design and construction of the vessel for PRMTA.