US Navy to Celebrate Earth Day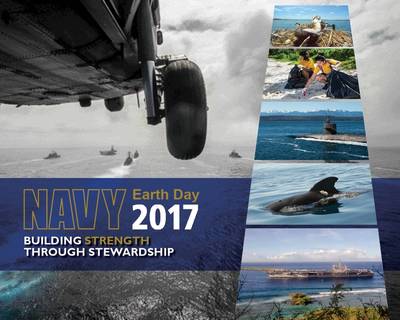 Performing missions at sea, on land and in the skies daily around the globe, the Navy is a constant presence in the environment. To emphasize stewardship on all fronts, the Navy workforce is taking part in Earth Day-related activities throughout the month of April.
The official Earth Day date is April 22.
The Navy's Earth Day theme for 2017 is, "Building Strength Through Stewardship." The theme emphasizes the value of environmental initiatives in supporting the mission by helping to build trust with government agencies and the public.
As examples, preserving the ecosystems where we train and operate, conducting research in support of training and testing permits and embracing environmental education opportunities all align with the "expand and strengthen our network of partners" line of effort in Chief of Naval Operations John Richardson's Design for Maintaining Maritime Superiority.
Navy commands worldwide are participating in at least 90 Earth Day events this year. Events include Earth fairs, beach and base cleanups, tree plantings, recycling contests, school and youth activities, fun runs and more. In addition to Navy-run events, many commands are participating in community-sponsored Earth Day activities.
Some of the Navy-sponsored activities include a SAPR/Earth Day 5K Run at Naval Air Station Patuxent River; Naval Base Guam's Dadi Beach cleanup; tree and flower plantings at Naval Station Rota's Vietnam Memorial; and a "Reduce Our Carbon Footprint" event at Naval Station Guantanamo Bay.
John Kleim, Executive Director for the Navy's Resilient Energy Program Office (REPO), will give remarks during an Earth Day Texas event in Dallas. The
Pentagon will
host an Earth Day Fair Friday, April 21, featuring informational materials from the Navy, Army, Air Force, OSD and other attendees.
"Each year, our Sailors and Navy civilians go above and beyond to demonstrate our commitment to environmental stewardship," said Rear Adm. Lou Cariello, director of the Navy's Energy and Environmental Readiness Division (OPNAV N45). "Not just on Earth Day, but in our daily work year round, we take pride in caring for the ecosystems and communities in which we operate."
Earth Day has been celebrated annually since 1970, when former U.S. Senator Gaylord Nelson of Wisconsin founded the holiday as a grassroots movement to raise awareness of environmental issues domestically and abroad.
(From Chief of Naval Operations Energy and Environmental Readiness Division Public Affairs)