National Maritime Day Celebrates Role of Merchant Mariners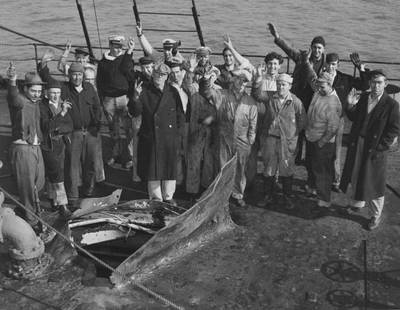 National Maritime Day is May 22; & this year celebrates the thousands of civilian mariners who support freedom as part of the Navy's Military Sealift Command.
Rear Adm. T.K. Shannon , commander, Military Sealift Command, wrote in honor of Maritime Week 2013 that began Sunday:
Memorial Day is traditionally a time to honor those who not only served our nation, but those who through their service made the ultimate sacrifice for our country. Sailors, Soldiers, Marines, Airmen, and Coast Guardsmen bear arms and go in harm's way because they are the warriors of our great nation. Each year in May, we remember and honor these warrior heroes. But there is another important group of men and women who do not wear the uniforms of our armed forces – yet still willingly go in harm's way for our country, and they have done so since our nation was born. They are our brave, self-sacrificing men and women of our U.S. Merchant Marine.

In World War II, merchant mariners manned the heavily laden gasoline tankers, troop transports and cargo ships transiting Torpedo Alley in the Atlantic Ocean while hounded by German U-boats. By the war's end, more than 8,000 men paid with their lives to ensure the success of our armed forces across the globe.
Our Navy is proud of our civilian mariners, and on May 22 each year, we honor our shipmates who have "crossed the bar" for the last time. In ceremonies held all over the world, we offer our prayers, our respect and our honor to the memory of our departed shipmates, acknowledging the great debt we owe them.

In this month of remembrance, as we honor all who have fallen in service to our nation, please remember the men and women of our U.S. Merchant Marine.