ZF Celebrating 100th Anniversary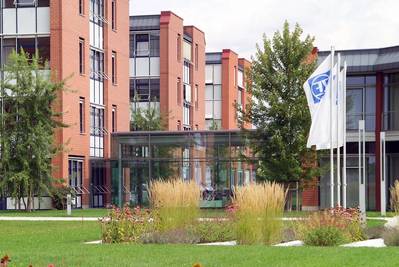 Zahnradfabrik GmbH was founded in 1915, and through a 100-year history has developed into a leading technology company in driveline and chassis technology with a global network of 71,600 employees at 122 locations worldwide.
ZF developed from its roots as a supplier specialized on the aviation industry to a global mobility technology company. Its founding at
Lake Constance
100 years ago had its origins in Luftschiffbau Zeppelin GmbH, which was headquartered there at the time and which was also a shareholding partner of Zahnradfabrik: The task of the newly founded company was to develop, test and manufacture gears and transmissions for aircraft, motor vehicles and motor boats. Several years later, ZF offered its technology to automotive manufacturers and became a transmission supplier of the still young German industry. By using its own know-how and acquiring licenses, ZF enhanced its product portfolio: Steering systems for automobiles and commercial vehicles were added in the 1930s, as well as drive units for field tractors. However, before and during the Second World War, armament production dominated the three German ZF locations at the time. ZF also employed forced laborers in all plants. By the end of the war, their number rose to 2,800.
After the war, ZF began to produce its civilian products in 1946, starting with field tractor transmissions and commercial vehicle transmissions. The company continued to enter new market segments, for example with the volume production of the first multi-ratio transmission for passenger cars in 1965. In parallel with this, ZF began to expand its international presence with the early construction of a production location in Brazil in 1958. ZF later began producing locally with its own locations in the U.S. (1979) and in China (1993). ZF said it also used expansions and corporate acquisitions as growth opportunities; in 1984, for instance, the company purchased the Lemförder Group, thereby entering the worldwide business of chassis components and later chassis systems for passenger cars and commercial vehicles. In 2001, driveline and chassis components for passenger cars and commercial vehicles followed with the former Mannesmann Sachs AG: Real net output ratio was increased and additional innovations were brought to the market. Today, these innovations are closely linked with the name ZF, such as the adaptive damping system CDC (Continuous Damping Control) and the hybrid-technology.
Today's ZF portfolio includes driveline and chassis
technology products
such as transmissions, driveline and chassis components, as well as complete axle systems and modules. ZF technology is used in passenger cars, commercial vehicles, construction and agricultural machinery, rail vehicles and marine applications. The company also focuses on the wind power and electronic components business.
"ZF's history is an example of how to exploit entrepreneurial opportunities together," said ZF CEO Dr. Stefan Sommer. "All ZF employees can be proud of this – from the development as well as the production departments, from the domestic company parts that have always been a part of ZF or from a part that joined ZF later."
ZF explained it is not only about the past, but also about the innovative culture and therefore the sustainability of the ZF Group. With its current product range, ZF said it is well prepared for the big trends of the future: from fuel efficiency and reduction of CO2 emissions, lightweight design, electrification and networking, to autonomous driving, adding that many of these megatrends are already being served by ZF with its production-ready technology. For others, ZF has presented studies and concepts over the past few years.