Genset Delivery Sparks Chinese Celebration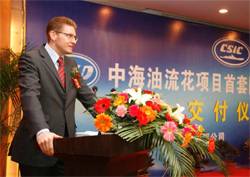 SXD-produced 32/40 gensets to provide power to CNOOC offshore platform Representatives from China National Offshore Oil Corporation (CNOOC), classification societies, local government officials and MAN Diesel & Turbo gathered on 18 November to celebrate the delivery of two 12V32/40 gensets, constructed by MAN Diesel & Turbo licensee, Shaanxi Diesel Heavy Industry Co., Ltd. (SXD). The new engines will replace older models aboard 'Liuhua 11-1', a working, offshore hydrocarbon platform operated by CNOOC. SXD is a company of the northern Chinese CSIC Group of state-owned factories and shipyards. The company's relationship with MAN Diesel & Turbo originally began more than 30 years ago with the signing of a license agreement for Pielstick-type engines. In later years, the license agreement was extended to include engines from MAN Diesel & Turbo's own engine portfolio, since when SXD has successfully delivered many MAN 32/40 engines to Chinese shipyards and ship owners. For the project, MAN Diesel & Turbo provided SXD with:
- A re-design of the 32/40 genset that could meet special offshore requirements
-

A-Frame Auxiliary Box (FAB)
-

The MAN engine automation system – SaCoSone.
China has a growing need for oil and gas to continue its rapid economic development. This, in turn, increases the number of retrofit and newbuilding projects involving offshore platforms, as well as for offshore supply vessels. In his speech at the ceremony marking the handing over of the two engines, Michael Filous – head of Medium-Speed License Support, MAN Diesel & Turbo China – emphasised the need for cooperation at the early stages of projects involving MAN Diesel & Turbo and Chinese companies so as to maximise the likelihood of fulfilling the tough requirements China has for local content. Filous said: "Based on the success of this particular project, MAN Diesel & Turbo is looking forward to continuing its close cooperation with SXD in the future. While operating in the Chinese market brings with it some strict conditions, it is an exciting market and one that our cooperation with SXD has made very rewarding."