Celebrity Cruises Reveals Celebrity Edge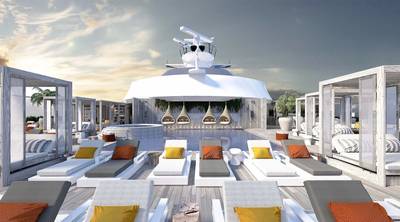 Richard Fain, the chief executive officer of Royal Caribbean Cruises Ltd.and Lisa Lutoff-Perlo, CEO of Celebrity Cruises—one of three brands in the Royal Caribbean family—announced a new category of ship that, among other transformational design moves, brings stateroom balconies indoors.
Designed completely in 3-D, and featuring the work of A-list global architects and designers, the 2,918-guest Celebrity Edge aims to make discerning global travelers redefine how they experience the world and how intimate a vacation can be.
"Celebrity Edge is one of the most exciting, innovative and transformational ships I have ever been involved with," said Richard D. Fain. "The new features and refined design will establish a new baseline for ships from here on out."
"Our guests don't want to just skim the world like a magazine – they want to feel a human connection with it,"
said Lisa Lutoff-Perlo
. "Every element of Celebrity Edge is meant to make that connection intense and unforgettable. Our new class of ship will allow guests to experience their journeys with the uniqueness and sophistication that marks the rest of their lives."
Celebrity made the most of its first new ship class in 10 years, bringing in a design and architectural dream team from around the globe to push the boundaries of ship design and to
evolve luxury travel
at sea, including internationally renowned interior designer Kelly Hoppen MBE of Kelly Hoppen Interiors and visionary architect Tom Wright of WKK.
American designer Nate Berkus serves as Celebrity Edge's design ambassador. Together with other designers whose work will be revealed later, the team arrived at designs that are fresh, exciting, current and comfortable – the essence of Celebrity's Modern Luxury style.
Celebrity's Solstice Class features the popular top-deck Lawn Club, with real grass ideal for lounging and picnics. Its Millennium Class has the Rooftop Terrace, a chic space to gather for drinks and movies.
The cruise line takes both a step further by combining the best elements of them into The Rooftop Garden, an area filled with live, lush greenery and sophisticated tree sculptures, which can double as seats for performers -- break up the wind, too.