MAN 32/44CR Engine US EPA Certified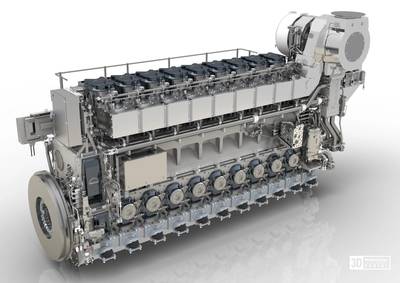 MAN Diesel & Turbo announced that its MAN 32/44 Common Rail engine family (rated power: 3,600 – 12,000 kW) has received U.S. EPA Certification, a requirement for all engines installed aboard U.S.-flagged vessels.

Chuck Griffith, Sales Manager, MAN Diesel & Turbo, North America, said, "This certification is a significant step in our four-stroke, marine-engine strategy for the U.S. market. The engine family has been certified US EPA Tier 2 for Category 3 engines and builds the foundation for us to introduce our U.S. EPA Tier 3 for Category 3 product in 2016. This will allow U.S. customers to benefit from the high power output and low fuel-consumption of our medium-speed, common-rail engines."

U.S. EPA Tier 3 is currently the final emissions tier for Category 3 (≥ 30L/cyl displacement) engines, and is similar to U.S. EPA Tier 4 for Category 1 and 2 (< 30 L/cyl displacement) engines.

The U.S. EPA certification process was initiated in response to demand from the American fishing industry. MDT said it has already received several orders within the U.S. for the engine, including that for an MAN 8L32/44CR engine to power a newbuilding trawler for Fishermen's Finest, the U.S. fishing company. This order was significant in that it represented a breakthrough for the CR engine in the important, U.S. domestic-fishing segment.

MAN said its CR engines, introduced in Europe eight years ago, feature SFOC that lowers emissions of soot and NOx and have already established a presence in several marine segments globally.

Specifically, the MAN 32/44CR is characterized by common-rail technology featuring optimized NOx vs. SFOC trade-off at every load point, independent of rpm, a high power output: 600 kW/cyl for diesel-electric set-ups and CPPs; 510 kW/cyl for FPPs and dredgers and low fuel-consumption of 172.4 g/kw-hr for diesel-electric and CPP set-ups, and the use of high-efficiency turbochargers.

MAN said its 32/44CR engines are suited for a variety of applications including fishing, ATBs (Articulated Tug Barges), anchor handlers, offshore construction vessels, dredgers and drill ships.