CG Seizes $83 million Worth of Cocaine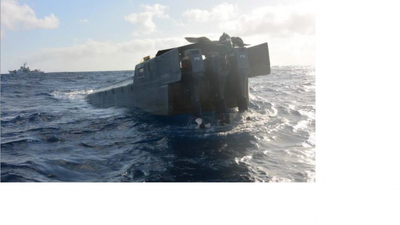 Oregon Coast Guard cutter returns home following counter-drug patrol, $83 million worth of cocaine seized

The crew of the Coast Guard Cutter Alert returned home following a 60-day counter-drug patrol in the Eastern Pacific Ocean, seizing more than $83 million worth of cocaine during the deployment.
The crew interdicted two suspected drug smuggling vessels, yielding more than 5,700 pounds of seized cocaine while patrolling international waters in support of Joint Interagency Task Force-South. Seven suspected drug traffickers were apprehended during the two interdictions.
The Alert crew received support from the U.S. Navy, Customs and Border Protection and Coast Guard maritime patrol aircrews, who provided the cutter with reconnaissance and over watch leading up to and during the interdictions.
Commissioned in 1969, Alert is one of 14 remaining 210-foot reliance-class medium-endurance cutters built for the Coast Guard and one of three reliance-class cutters stationed on the West Coast.
The Coast Guard will be phasing out medium-endurance cutters with the addition of the 360-foot offshore patrol cutter (OPC). Acquisition of OPCs is one of the Coast Guard's highest investment priorities. The OPC will provide a capability bridge between the 418-foot national security cutter, which patrols the open ocean, and the 154-foot fast response cutter, which serves closer to shore. The OPCs will feature state-of-the-art technology to meet the service's long-term need for cutters capable of deploying independently or as part of task groups to conduct law enforcement, search and rescue, homeland security and defense missions. The first OPC is scheduled for delivery in 2021.