New UK Ferry Service Charters Austal Trimaran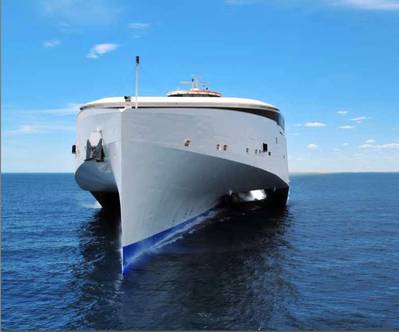 Euroferries' express Ramsgate – Boulogne cross channel service to launch in 2013 with the Austal hi-speed 102m trimaran.

The vessel will arrive in January 2013, with the service becoming fully operational between Boulogne and Ramsgate during February 2013. The service will offer 4 daily crossings, catering for passengers, cars and luxury coaches. The trimaran is capable of achieving speeds in excess of 40 knots thus enabling Euroferries to provide one of the fastest channel crossings available.

The newly-built vessel's state of the art design offers unprecedented sea keeping capabilities, utilising the softer roll of a monohull with the low resistance, stability and carrying capacity of a catamaran, affording unrivalled levels of passenger comfort for travelling across the channel at speed.

Euroferries service will provide an "in-seat" shopping service, Wi-Fi Internet access, extensive onboard catering and shopping facilities and easy motorway access to and from both ports, developing and maintaining dedicated customer focus for this unique experience. They will also be introducing an express coach service to operate between Ramsgate, Canterbury and London Victoria.

Euroferries chairman, Per Staehr would like to congratulate his team, Austal, Euroferries partners, Boulogne and Ramsgate ports and the state authorities for enabling them to get to this milestone of the project.