Chengxi Shipyard Delivers Self-unloader to CL-Hartmann JV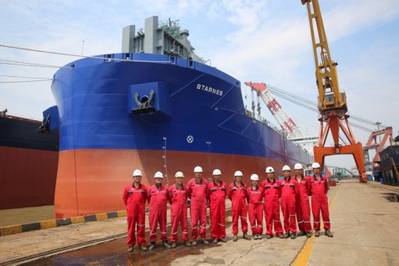 The first of two CSL-Hartmann joint venture ships built at Chengxi Shipyard in China was delivered on August 10.
Having already completed all dockside and sea trials, the 40,000 DWT self-unloading bulk carrier Starnes set sail for Hamburg via the Suez Canal on August 14. Captain Bi Fusheng and Chief Engineer Li Fuwang will take the 190-meter-long vessel to Manilla where there will be a crew change, and the new crew will take the vessel on to Germany.
Starnes is the first of two new vessels for the 50/50 joint venture between Canada-based CSL Group and Germany-based Hartmann Group and joins a fleet of six other Hartmann self-unloading ships with 172,000 tonnes loading capacity that are transporting aggregates on routes throughout Europe. The two new vessels will add 80,000 tonnes loading capacity to the fleet on routes between Norway, Germany, and the U.K.
Starnes can self-discharge at a rate of 5,500 tonnes per hour and is equipped with a 90.5-meter boom, which is said to be one of longest and largest ever built for a self-unloader. The self-unloading system can handle lump sizes up to 300 millimeters and free flowing materials with a bulk density in the range of 1.2 to 3.5 tonnes per cubic meter.
Starnes is fitted with energy-saving hub fins, an exhaust scrubber and a ballast water treatment system that complies with International Maritime Organization (IMO) and U.S. Coast Guard (USCG) regulations.

(Image: CSL Group)