China's COVID Woes Are Pressuring Supply Chains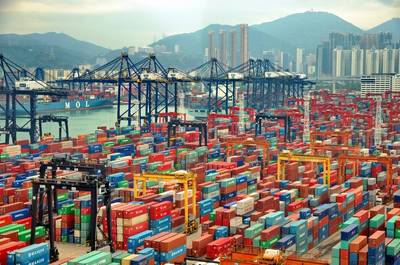 Declining world supply chain pressures are being challenged by new disruptions in China tied to the coronavirus pandemic, the New York Federal Reserve reported on Friday.
The regional Fed bank's December Global Supply Chain Pressure Index ticked down to 1.18 from November's revised 1.23 reading. According to the report, supply chain pressures have been easing notably since the spring of last year and bottomed in September, and have since then been bouncing around in a tight range.
In a blog posting accompanying the report, bank economists said "while supply chain disruptions have significantly diminished over the course of 2022, the reversion of the index toward a normal historical range has paused over the past three months," adding that "our analysis attributes the recent pause largely to the pandemic in China amid an easing of 'Zero COVID' policies."
In contrast to much of the rest of the world, until recently China has been pursuing aggressive lockdown strategies to mitigate the spread of the virus. Given China's large role in manufacturing, that approach has kept pressure on supply chains over recent months. Now, the easing of restrictions has been attended by a massive wave of coronavirus infections, which threaten to keep pressure on the ability to ship goods out of China.
The report noted that China's recent woes were affecting other Asian economies, and said the future of that nation's impact on supply chains is uncertain. "It will be interesting to see how future (supply chain index) readings evolve in light of the recent relaxation of China's pandemic restrictions and resulting wave of COVID-19 infections, hospitalizations, and deaths," the blog posting said.
Since the onset of the pandemic in the spring of 2020, global supply chains have been highly disrupted and have been a notable driver in helping to create the highest levels of inflation seen in decades.
Supply chain pressures as measured by the New York Fed have been generally easing since hitting a peak in the closing months of 2021. That trend is widely viewed as having taken some pressure off of overall inflation trends, which are showing some initial signs of a welcome softening.
High inflation has driven the Fed to raise rates at an aggressive pace. U.S. central bank officials have penciled in more increases for 2023 but expect to stop and hold for a while, amid expectations inflation pressures will start cooling off.
(Reuters - Reporting by Michael S. Derby; Editing by Paul Simao)