Raytheon Anschütz Supplies INS to Chipolbrok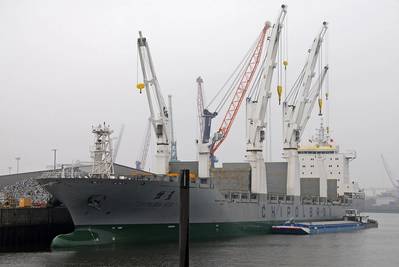 Raytheon Anschütz supplied its Synapsis Integrated Navigation System (INS) to a series of four new 32,000 DWT MPP heavy-lift vessels being built at Shanghai Shipyard for the Chinese-Polish joint stock shipping company Chipolbrok.
The INS supplied includes X- and S-band radars as well as four Synapsis bridge workstations for chart radar and ECDIS with radar video overlay, the German
navigation system manufacturer said
.
The INS centralizes common tasks and services and provides functional integration of
navigation systems
and applications as well as of important sensors. A standard hardware platform for all INS applications offers flexibility to scale a workstation according to individual requirements.
Standard Synapsis features are a common data backbone, a consistent common reference system (CCRS), a central target management, an intelligent central alert management, a health monitoring for system status and availability and also an advanced user setting management.
For the ship's steering Raytheon Anschütz supplies its NautoSteer AS, a CAN-bus based steering gear control system. NautoSteer AS was developed in accordance with fail-to-safe principles and provides advanced features such as integrated wire-break monitoring or a comfortable take-over of steering positions. The steering system also integrates the adaptive NautoPilot 5400, which combines heading and course control modes for high-precision steering with an ECO-mode to reduce fuel consumption.
Raytheon Anschütz said Synapsis Intelligent Bridge Control is the world's first Integrated Navigation System in accordance with IMO's INS Performance and Test Standards. Its high scalability makes it suitable for all types of ship.