Signet to Deliver and Christen Newest Tug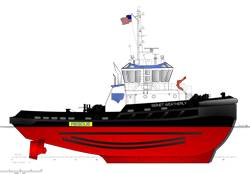 Signet Maritime Corporation announced that its newest tug, a Robert Allan designed RAmparts 3200 Class ocean towing and escort tug, M/V SIGNET WEATHERLY, will be delivered on March 10, 2012, from Signet Shipbuilding & Repair in Pascagoula, Mississippi. This state-of-the-art ASD will be used in Signet's U.S. Gulf of Mexico operations. Signet will own and operate the vessel in support of its Offshore Towing Division and its expanding U.S. Gulf and overseas harbor, ship assist, deep offshore and ocean rig transport business.
M/V SIGNET WEATHERLY will be christened on Saturday 10 March 2012 at 10:30 am in Port of Corpus Christi, Texas; Mrs. Lori Sezer—wife of Mr. Fuat Sezer, President, Kiewit Offshore Services, Ltd., Ingleside, Texas—is the christening sponsor. The ceremony at the Solomon P. Ortiz International Center will be followed by a luncheon.
By popular vote among Signet employees, the name M/V SIGNET WEATHERLY was chosen for this newest vessel after the 1962 America's Cup winner, Weatherly.
"One of the most graceful and swift of all 12 Meter America's Cup's yachts, Weatherly, built in 1958, took the honors in the '62 bid," said Signet's President, Mr. J. Barry Snyder. "A legacy like this is one of the reasons we are proud to name the Signet fleet after these amazing vessels. SIGNET WEATHERLY will be just as graceful and just as tough, handling our customers' needs in all circumstances. SIGNET WEATHERLY sea trials, held last week, bear witness to the standard Signet Maritime Corporation sets and upholds. We are proud to press her into service."
The highly maneuverable and efficient SIGNET WEATHERLY is built to American Bureau of Shipping Maltese Cross A1 Towing & Escort Service and Maltese Cross AMS standards. Measuring 108' (32.92m) by 40'4" (12.29m) by 17'8" (5.38m) and with an estimated 60 tonnes of bollard pull, the vessel is powered by a pair of MTU Model 16V4000 M60 diesel engines producing a total 4,720 BHP at 1800 RPM to aft-mounted ZP31 Niigata Z-Peller drives.
The ship is outfitted with a Markey 100HP TESD-32 electric towing winch and a Markey 50 HP DEPCF-48 electric hawser winch, two (2) John Deere 99kW, 60Hz, 480V generators and a remote operated FIFI system. The tug also features accommodations for 10, with five (5) staterooms, a modern galley and state-of-the-art wheelhouse complete with chart table, log desk and controls, instrumentation, GMDSS, and navigation aids and sliding pilot chair.
M/V SIGNET WEATHERLY will be home-ported at Signet's International Operations Center in Ingleside, Texas and will enter service immediately following the Christening. In addition, the tug will be operated under Signet's ABS-certified International Safety Management (ISM) and ISO 9001-2008 Quality Management Systems.