New River Cruise Ship Christened in Antwerp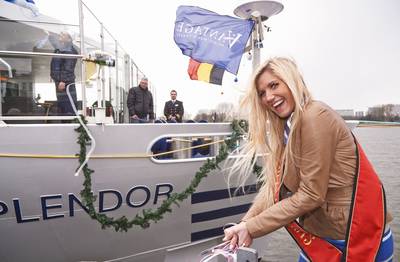 This launch is part of a $120 million fleet investment program by Vantage Deluxe World Travel.
Vantage Deluxe World Travel christened the MS River Splendor in Antwerp, Belgium as the latest addition to its growing European river cruising fleet. 'Miss Belgium', Noemie Happart led the official naming ceremony as the ship's godmother.
The new ship will make its inaugural passenger voyage on March 17th from Amsterdam.
Measuring 442 feet/135 meters, the maximum length allowed by European Union regulations, the River Splendor boasts several innovative features that are consistent with Vantage's new fleet including a fuel efficient propulsion system that allows for reduced emissions and earns the vessel a "green ship" designation, energy-saving LED lighting and canvas ceilings throughout the ship, a hydraulic sliding roof allowing for indoor/outdoor dining, and the largest full-service kitchen of any European river cruising company.
Licensed to carry 176 passengers and 45 crew members, the new ship offers one of the best crew-to-passenger ratios available and, the owners say, the most public space of any Vantage European river cruising ship. With eight single staterooms, the River Splendor has been built to meet the popular demand of single travelers. This newest vessel is the second ship to come online, following the successful launch of the River Discovery II in 2012, as part of Vantage's major $120 million fleet investment program.