CMA CGM Kerguelen to Be Christened in Le Havre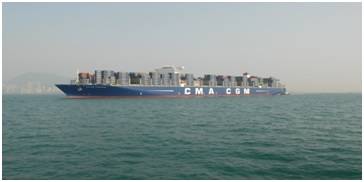 CMA CGM has chosen HAROPA -
Port of Le Havre
to christen its new sea giant container vessel, the Kerguelen.
As the largest container port for the external trade of
France
, HAROPA enjoys recognized expertise by shipping companies and main alliances. The container traffic, rising by 2 percent in 2014, is in the heart of the strategic project of HAROPA, whose target is to reach 4.8 million TEU (twenty-foot equivalent) by 2020. Its port facilities – and especially Port 2000 in Le Havre- make HAROPA one of the few ports of the northern range with Rotterdam to be able to accommodate the largest containerships fully laden and 24/7.
Under the British flag, the Kerguelen of CMA CGM will sail from Asia on May 10, and will be officially christened in Le Havre on May 12, in the presence of Jacques R. Saadé, incorporator and CEO of the
CMA CGM Group
, of Agnès Canayer, Senator and deputy Mayor of Le Havre, and Hervé Martel, Executive Director of the Port of Le Havre.
The christener of the vessel will be Catherine Hayot, Bernard Hayot's wife, as Hayot is the incorporator and President of the industrial group GBH.
Delivered in March 2015 by the shipbuilder Samsung Heavy Industries, the Kerguelen measures 398 meters long, for 54 meters wide and can carry 17,554 TEU. Longer than four football grounds and wider than the Arc de Triomphe (45m), the containership will be positioned departing from Le Havre on the FAL1 (French Asia Line), the emblematic service of the company which connects Europe to Asia. This line provides the customers of the group with a weekly connection on fixed day between HAROPA and Central and South China (main exporting zones in the country).
The commercial offer of CMA CGM provides connection with 275 ports in the world via HAROPA. As a major and among the first customers to have used the Port of Le Havre, CMA CGM directly employs around 500 people along the Seine corridor, including 90% in Le Havre. The shipowner's business generates a total of 3,000 direct and related jobs in the Le Havre port place.
As a HAROPA partner, CMA CGM is also a stakeholder for environmental protection. Since the creation by HAROPA in 2012 of the Environmental Trophies (ESI), which reward the most virtuous shipping companies in terms of emissions into the air, CMA CGM has every year won the award.