Virtual Christening of UOS Atlantis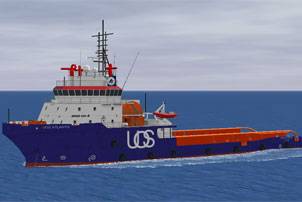 "I hereby christen you UOS Atlantisand wish you always calm seasons." With these words and a bursting champagne bottle, Gesine Frerichs, assistant to the management of Hartmann Offshore GmbH, performed the honors at the 'Virtual Christening' of Hartmann's newly build MOSS 424-type Anchor Handling Tug Supply vessel at Nautitec's Transas Full Mission Bridge Simulator in Leer, Germany.

The bursting 'virtual bottle' was developed by Transas Marine GmbH's 3D-Developer who recalled that: "This was an interesting challenge, but by using Model Wizard, Transas' modeling software suite, I was able to develop an effect which was both fun and quite realistic."

The UOS Atlantis is the first in a series of AHTS vessels currently under construction. Simulation model was actually built as part of a diploma thesis by former student Till Moebius from the University of Applied Sciences in Leer, working with Transas' modeling software tool Virtual Ship Yard.

This vessel has already been successfully run through a series of simulated sea trials, and has been approved by Captains from Hartmann. The Real-World UOS Atlantis has been awarded to EDT Offshore Egypt, to become part of BP Egypt's Mediterranean vessel fleet, and is working in support of BP's offshore drilling activities. 6 of a total of 12 vessels are already in service world-wide.