Alaska Ship & Drydock Christens the MV Ken Eichner‐2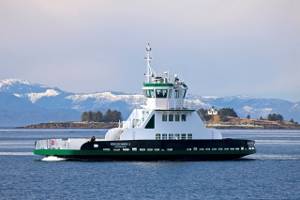 On April 2, Alaska Ship & Drydock, Inc. and the Ketchikan Gateway Borough christened the MV Ken Eichner‐2 as the Borough's second ferry providing service to the Greater Ketchikan International Airport and entering service as the sister ship to the MV Oral Freeman. Both ships were built by Alaska Ship & Drydock, Inc. (ASD) and are registered as Hull No's 001 and 004 respectively for the Ketchikan based Shipbuilder.
The project was funded through state legislative appropriations sponsored by Senator Bert Stedman and Representative Kyle Johansen. The concept design for the new ferry was performed by Matt Miller of Glosten and Associates and detail design was accomplished by Callum Campbell of Capilano Maritime Design, Ltd. The project was managed by Jim
Lowell, the Regional Construction Manager for the Southeast Region office of the
Alaska Department of Transportation
and Public Facilities and. Mike Carney, the Ketchikan Gateway Boroughs Airport Manager and interim Public Works Director, provided coordination with the Borough.
Bids for the new ferry were opened in January 8, 2009 with ASD submitting the lowest bid at $7,088,457 saving the state/borough over $1m compared to the next lowest bidder's price of $8,200,000. Carl Smith and Jim Pinckney led ASD's multi‐skilled shipbuilding workforce through the 24 month design and construction period completing the project on schedule and on budget.
ASD has been the private sector operator of the Alaska Industrial Development and Export Authority (AIDEA) owned Ketchikan Shipyard since November, 1993. AIDEA is an
Alaska State
Corporation whose mission is to promote, develop, and advance economic growth and diversification in Alaska by providing various means of financing and investment.
M/V Ken Eichner Principal Characteristics:
DESIGN PAYLOAD
􀀹 Double Ended Passenger Ferry, Restricted Service Vehicles: 23 Standard Vehicles or 1 Semi
Tractor/Trailer and 13 Standard
􀀹 AMS, A1 +, Under 90M Rules, RO‐RO Passenger Vehicle Ferry Crew: 2 Licensed
􀀹 Restricted Service: Ketchikan Alaska, Tongass Narrows Fuel: 8,000 US Gallons
PRINCIPAL CHARACTERISTICS MACHINERY
􀀹 Length Overall: 116'‐6" Propulsion Engines: (2) 850 HP Cummins KTA 38 MO Tier II
􀀹 Length Between Perpendiculars: 114'‐8" Reduction Gears: (2) Twin Disc MG 5225 DC Reversing
Gears
􀀹 Beam (Breadth): 48' – 0" Propellers (Fixed Pitch): (2) CF3 Stainless Steel 5 Blade 70" x 41"
􀀹 Depth (Molded): 12' – 0" Generators: (2) 55 Kw Northern Lights M55 C2 Tier II
􀀹 Design Draft: 9' – 6"
􀀹 Design Displacement: 463 LT
NAVIGATION
􀀹 Lightship Weight: 309 LT
􀀹 GPS Satellite Navigation
PERFORMANCE
􀀹 Electronic Charts
􀀹 (2) Radar Systems
􀀹 Maximum Speed, Design Draft: 10 Knots Fathometer
􀀹 Cruise Speed, Design Draft: 8 Knots Speed Log
􀀹 Bollard Pull (1 Engine): 8.925 LT Wind Speed and Direction Indicators
􀀹 Range: 2600 Nautical Miles
􀀹 Service Life: 25 Years
COMMUNICATIONS
􀀹 (2) VHF Radios