Smith Brothers Chrtisten New Tug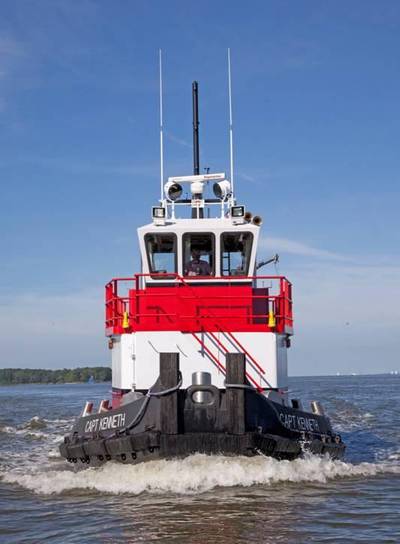 Smith Brothers, Inc., Chesapeake Bay-based barge and marine equipment charter company, recently added the tug Capt. Kenneth to its fleet of inland and truckable tugs. With the 99-year-old namesake looking on alongside his son, Jeffrey Smith, company president, Eleanor Smith christened the vessel after her grandfather, Kenneth.

"This boat reflects the hard work and commitment of the Smith Brothers team," said Jeffrey Smith. "This boat arrived here in Galesville as flat plates of steel and in the course of three years, we have built a very able tug using the talents of everyone here."

The Capt. Kenneth is 50' x 19' x 7.5" with an operating draft of 6'. The shallow draft enables the boat to move barges anywhere in the Chesapeake and its tributaries. The model bow with push knees designed by Oliver Bryant gives the boat the flexibility of traveling on the open waters of the bay in most sea conditions.

Powered by twin John Deere 6125 engines rated at 341 hp at 1800 rpm, the Capt. Kenneth will have additional thrust provided by 40" CFN Kort nozzles.

"We added a Kort nozzle our 52' tug Capt. Nelson in 1980 and we found that not only do the nozzles give the engine more thrust, the props are protected in some of the shallow water we operate in," said Jeffrey Smith. "I'd like to use them even on our small truckable tugs."

Jeff Brown, inspector with U.S. Coast Guard Sector Baltimore was on hand to celebrate the new vessel. "It is state of the art and top of the line," he said of Capt. Kenneth. Smith Brothers worked closely with Coast Guard throughout the building process to be sure the boat meets and exceeds the requirements set out by the proposed Subchapter M rule-making.

Besides the Coast Guard, the event was attended by nearly 100 customers, suppliers and friends from up and down the east coast. "It was a real honor to have industry leaders recognize our little local yard," Smith said.